News
Monday, February 6, 2017 - Contact: 225-273-6439
BREC Welcomes Dr. Ivory A. Toldson for Black History Month Event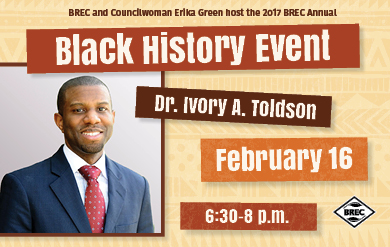 The Recreation and Park Commission for the Parish of East Baton Rouge (BREC) will celebrate Black History Month on Feb. 16 from 6:30-8 p.m. at Independence Park Theatre, 7800 Independence Blvd. This event is free and open to the public.
This year, BREC welcomes Dr. Ivory Toldson as we celebrate Black History Month. Dr. Ivory A. Toldson is the president and CEO of the QEM Network, professor of counseling psychology at Howard University and editor-in-chief of The Journal of Negro Education. Previously, Dr. Toldson was appointed by President Barack Obama to devise national strategies to sustain and expand federal support to HBCUs as the executive director of the White House Initiative on Historically Black Colleges and Universities (WHIHBCUs).
In addition to Dr. Toldson, BREC will also reflect on the contributions that African Americans have made in East Baton Rouge Parish and around the world with a host of featured performances from area schools and local choral groups.
This event is proudly sponsored by Councilwoman Erika Green, Councilwoman Chauna Banks, Councilwoman Tara Wicker, Councilwoman Donna Collins-Lewis, Councilman LaMont Cole, Rep. Pat Haynes Smith, Pilot Club of Baker, AmeriHealth Caritas, Mid-City AARP, Hotel Indigo, the BREC Foundation and Cumulus Media.
For more information, call 225-272-9200, ext. 545 or visit brec.org.