News
Monday, March 20, 2017 - Contact: 225-273-6439
BREC Hosts Community Egg Hunts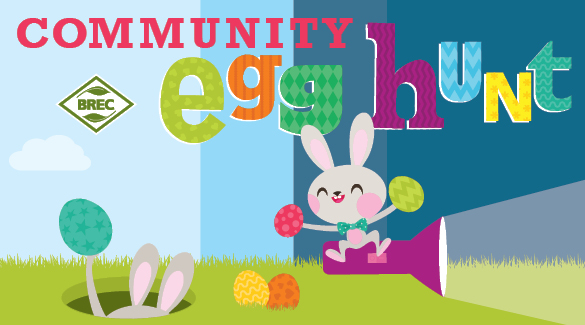 Hop into the holiday season with BREC's Community Egg Hunts at various parks. Gather up the family for these community egg hunts filled with family fun for all ages. Activities will include themed recreational games, arts and crafts, a visit from the Easter Bunny and candy provided by Elmer Chocolate.
The first egg hunt will take place on March 31 at Plank Road Park from 6:30-9 p.m. BREC encourages participants to bring their flashlights for this nighttime egg hunting extravaganza. The second egg hunt will be held on April 8 at Highland Road Community Park from 10 a.m.-noon.
This year, BREC is also offering two egg hunts for the "young at heart" at BREC's Adult Leisure Bunny Hops for adults over 50. Participants are invited to being their grandchildren for a host of intergenerational activities. Participants are invited to join the fun on April 11 at Womack Park from 11 a.m.-1 p.m. and on April 12 at Anna T. Jordan Community Park from 10 a.m.-noon.
For more information, call 225-272-9200, ext. 545 or visit brec.org.