News
Tuesday, October 1, 2019 - Contact: 225-273-6439
BREC Welcomes Patrons to Halloween Programs & Events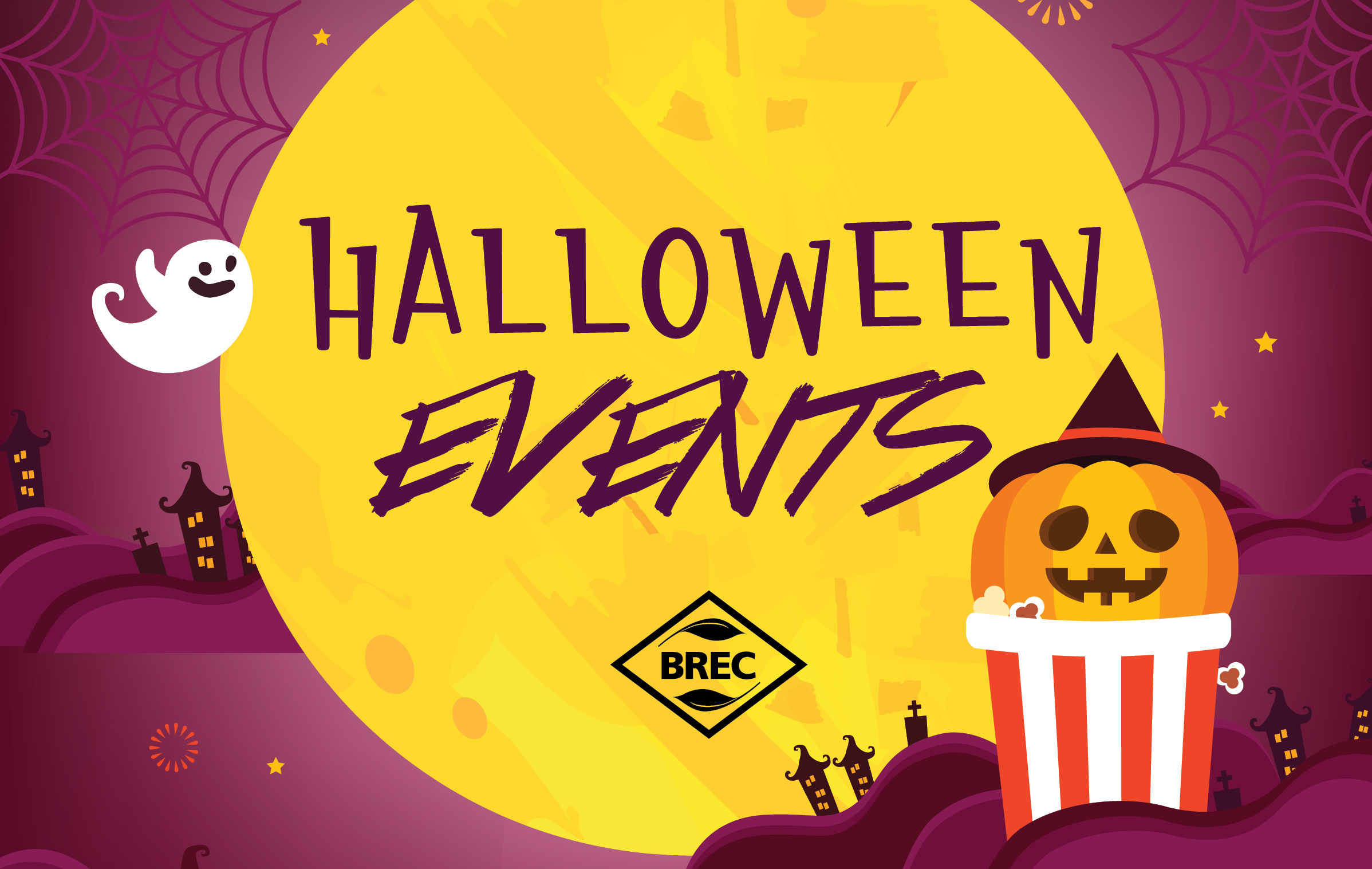 EAST BATON ROUGE PARISH –BREC is excited to announce several, spooky Halloween programs and events for the East Baton Rouge parish to enjoy during the month of October. Events and programs to look forward to are as follows:
BREC-A-Boo: Something's brewing in the air this Halloween season, so grab your family and get dressed in your favorite costume for one of BREC's BREC-A-Boo Halloween Events. Join us at Greenwood Community Park on Oct. 12 at 6 p.m. for a children's village of fall-themed activities including family/team pumpkin carving, as well as a BOOgie Dance off and movie. Join BREC again on Oct. 26 at Forest Community Park for a day-time children's village from 10 a.m.-2 p.m. or a haunted hike at dusk. For more information, email recreationevents@brec.org.
Spooky Spectrum- Oct. 12 from 6-10 p.m. join the Highland Road Park Observatory's annual family-friendly tribute to the bizarre and freakish takes place! On this moonlit night, the Observatory will dive into the eerie side of astronomy, physics, and aeronautics with creepy science demos and campfire stories, strange sky phenomena, extra dimensions, and extraterrestrials. For more information call 225-768-9948 or visit brec.org/observatory.
Bluebonnet Swamp's Haunted Hikes: These hikes are designed especially for children, but all ages can enjoy the spooktacular excitement of these Halloween-themed evenings. Venture outside to find a way through the Haunted Maze to get to the carnival games for more fun and prizes. Be on the lookout for our silly-swampy costumed characters as they have some great treasures to share! Inside the nature center, the kooky-spooky adventures continue with the Animal Morgue, Wings of Hope Wildlife Sanctuary in the Bat Cave, the Creepy Cavern, and face-painting. At night, head into the woods to get some treats and learn about snakes, insects, rats, and other "creepy critters" at educational stations along the Haunted Hike trail. Costumes are welcome and flashlights are recommended. Join BREC's Bluebonnet Swamp for a howling good time on October 11, 18 and 25 at dusk. For more information, call 225-757-8905 or visit brec.org/swamp.
Boo at the Zoo: BREC's Baton Rouge Zoo invites participants to Boo at the Zoo, a merry-not-scary trick-or-treating extravaganza on Oct. 19-20 & Oct. 26-27 from 9:30 a.m.-4 p.m. Participants should wear their best costumes and visit treat stations throughout the Zoo, take a ride on the Spooky Train Ride or wander through the merry-not-scary Hay Maze. Regular zoo admission applies. For more information, visit brzoo.org.
Hocus Pocus Themed Adaptive Sunshine Social: Hocus Pocus at Womack Park on Oct. 18 from 6-9 p.m. Through a partnership with Families Helping Families of Greater Baton Rouge, BREC is able to offer themed, monthly socials for adults with cognitive and developmental disabilities and their friends and family. There will be a disc jockey, snacks, door prizes, socialization, and fun. For more information, call 225-272-9200 or visit brec.org/adaptive.
Adult Leisure Halloween Tea Dance: BREC didn't forget about adults over 50 this Halloween season. Join the fun at BREC's Halloween Tea Dance on Oct. 19 from 6-9 p.m. at Womack Park. Seniors should come dressed in their Halloween attire and enjoy live entertainment, light refreshments, and friends while dancing to classic ballroom dance music. For more information, call 272-9200 or visit brec.org/adultleisure.
Pumpkin Paddle Parade- On Oct. 24 from 5:30-7:30 P.M. get into the Halloween spirit with BREC Outdoor Adventure's annual Pumpkin Paddle Parade at Milford Wampold Park. This is an exciting competition of "float" decorating where participants design and decorate a canoe, kayak or paddleboard in Halloween décor, and then parade in front of judges for the chance to win fabulous prizes! For more information and to pre-register, call 225-272-9200 or visit brec.org/outdooradventure.
Trick & Treat- Join dog and Halloween lovers at the annual Trick & Treat dog costume contest at Forest Community Dog Park on October 25 from 6-9 p.m. Bring the dog and the entire family to this dog-friendly Trick or Treat event. Local pet organizations will be in attendance distributing valuable information, candy for the kiddos and treats for the dogs. Dress up your dog and your whole family for additional chances to win. To pre-register for this event or for more information, call 225-272-9200 or visit brec.org/kidsandcommunity.
Eek-A-Boo Art- At BREC Art's new holiday workshop participants will create a wicked-awesome three-dimensional house. Participants will learn the basics of collage and simple construction and will leave with a piece of art that will be around for family Halloweens for years to come! Children ages 8 to 12 are invited to Milton J. Womack Park on October 26 from 10:30 a.m.-noon to use those scary-creative talents and make something unique. For more information, call 225-272-9200 or visit brec.org/art.
For a full list of all of BREC's monthly offerings, visit brec.org/thismonth.
BREC is the agency that connects people to parks and nature in East Baton Rouge Parish. It is a political subdivision of the state of Louisiana created in 1946 to develop, maintain and operate public park and recreational facilities. Throughout its 70-year history, BREC has taken seriously its responsibility to improve the health, safety, environment and quality of life for all citizens. BREC was among the first park agencies to earn national accreditation and recently earned reaccreditation for an unprecedented fifth time, meeting all 144 standards. BREC is a two-time National Gold Medal Award winner and 16-time national finalist.