Construction News
Monday, July 25, 2016
BREC to Break Ground on Recreation Center Renovations at Forest Community Park
Public Invited to Attend Groundbreaking Ceremony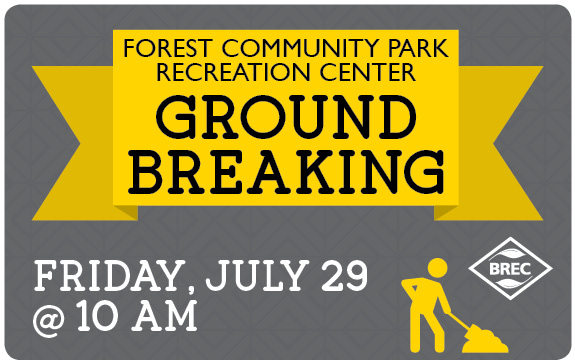 BREC is set to begin construction right away on renovations to the recreation center at Forest Community Park. There will be a groundbreaking ceremony to kick off renovations on Friday, July 29 at 10 a.m. The park is located at 13900 South Harrell's Ferry Road.
Forest Community Park is a community park that serves a larger geographic area than a neighborhood park. Community parks are designed to offer amenities for the entire family for a whole day. This park is located on the southeastern part of East Baton Rouge Parish and was reopened in 2010 following major renovations. New features including pavilions available for rent, a Raising Canes dog park, fishing pond, trails, community playground, splash pad and a tennis center were added to the existing baseball/softball fields and recreation center.
The existing recreation center and gymnasium was originally built in the 1970's and the gymnasium has never been air conditioned. This renovation is part of a new BREC initiative for updating its most heavily used recreation centers to include air conditioning allowing interior climate control for comfort and new quality programming space that meets the needs of the community. In addition to energy saving improvements and air conditioning the gymnasium, the updated recreation center will offer over 4,000 square feet of additional space. That new space will include up to date restrooms, a new entry lobby and reception area, new offices, new storage space and four new programming areas.
For more information on the Forest Community Park groundbreaking, contact BREC Volunteers and Special Events Manager Monica Dugas at mdugas@brec.org.