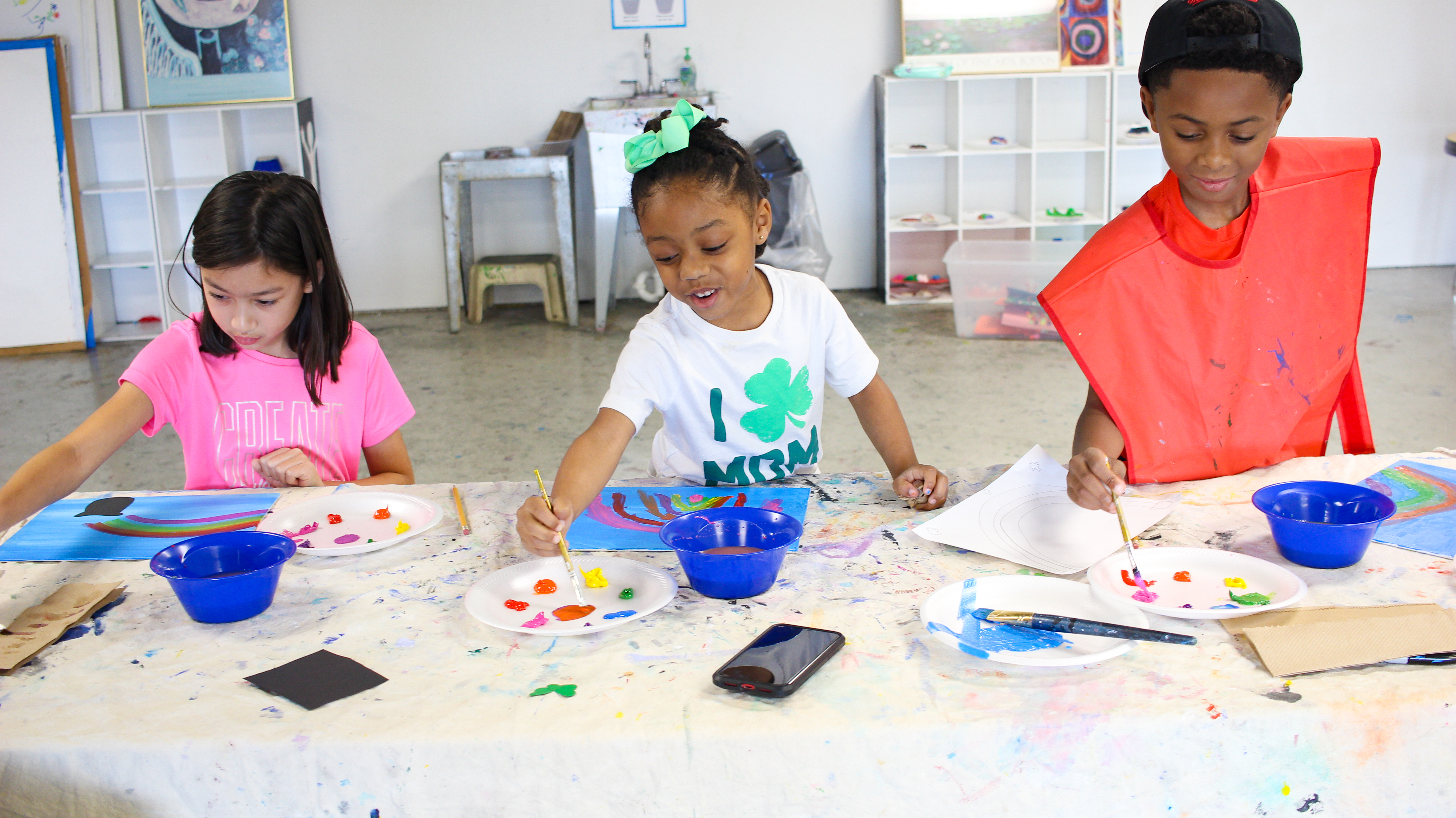 Event

Saturday Morning Studio
Event Date and Time Information
Date and Time
Event Details:
Description
This semester's Saturday Morning Studio will focus on Art With A Purpose! Each month, Studio participants will be introduced to a new artist or art medium that has a specific intent. We will approach projects based on famous artists, self-awareness and advocacy. Join us each month for thought-provoking creative expression. All supplies and snacks included!
Sept. 9: Basquiat Dinosaur (oil pastels and paint)
In this session, we will encourage students to develop their own symbols and signature style. Using their own design ideas, they will create a dinosaur using unique icons in the style of American artist, Jean-Michel Basquiat. Basquiat (1960-1988) began as a street/graffiti artist in New York and became a major influence in the Neo-Expressionism movement. Neo-Expressionism features bold, rough strokes and bright colors that show emotion.
Oct. 14: Shaking Dog (mixed media, tempera and pastels)
What's more fun than a wet, shaking dog? A composition of one that includes splatter and finger painting, that's what! Students will draw and use several painting techniques in the style of American finger painter, Iris Scott, to create a sweet, wet puppy. Iris Scott is one of a few professional finger painters. By using paint and just her fingers she creates vibrant paintings full of movement and life!
Nov. 11: Clay Flower Still Life (clay and acrylic paint)
In this session, students will create a piece of art that features a three-dimensional flower still life inspired by the many flowers found in the art of Diego Rivera and Frida Kahlo. Hispanic artists, Rivera and Kahlo, overcame a lifetime of illnesses and hardships before they became two of the most noted artists in history. Kahlo is quoted as saying, "I paint flowers so they will not die."
Dec. 9: The Day You Begin (markers, crayons + Sharpie)
This month's Studio is perfect for making a memorable gift or keepsake. Students will create a self-portrait inspired by the artwork in the book The Day You Begin by Jacqueline Woodson and illustrated by Rafael López. They will also highlight the things that make them wonderfully unique, as they focus on expressive line, shape, pattern and proportion. The Day You Begin tells a story about celebrating the things that make you uniquely you. The colorful illustrations are paired with a positive message of how true magic can take place if you share your stories and experiences with others.
Health & Wellness:
Mental
Contact Information