Greenwood Park and Baton Rouge Zoo Transformation
Sunday, December 6, 2020
BREC to Break Ground at Greenwood Community Park and Baton Rouge Zoo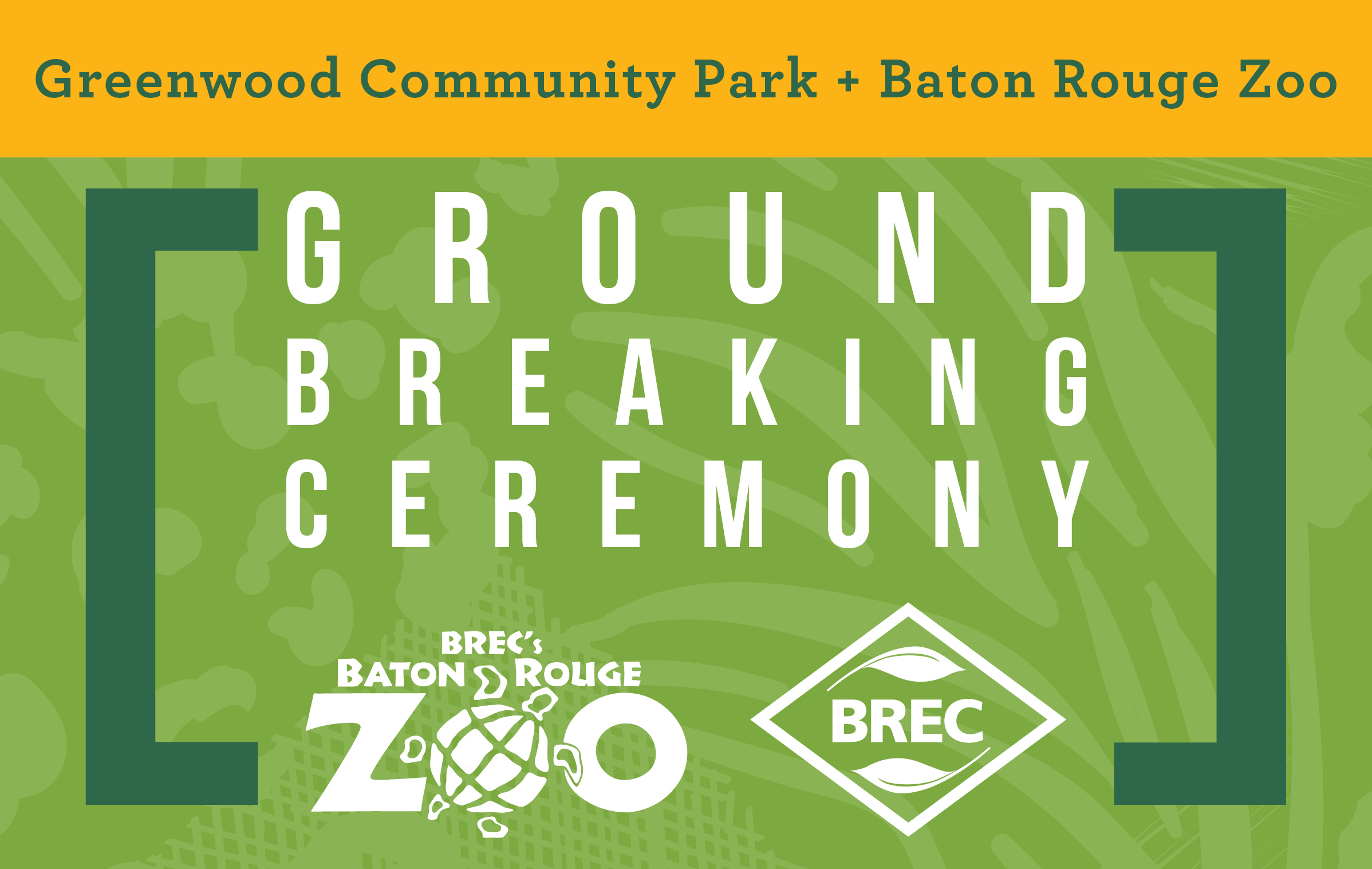 BREC is hosting the long-awaited groundbreaking. for Phase I improvements of its Greenwood Community Park and Baton Rouge Zoo on Tuesday, December 8, at 10 am. The ceremony will be held at 13305 Scotland Ave. Baton Rouge, La. 70807 near the Zoo's future new entrance which is currently the Zoo's service entrance located to the right off of the current entrance to Greenwood Community Park. This large-scale transformational project will kickstart improvements to the Zoo and the park. Entirely new, unique, high-quality attractions, modern zoo exhibits, and iconic recrea-tion environments that have never before been seen in the Parish or region will be presented. The ceremony will begin at 10:30 am with light refreshments served immediately following the presen-tation. Participants will be encouraged to follow proper COVID-19 protocols by practicing social distancing and wearing masks.
In 2019, BREC hired a world-renowned design team of Sasaki park designers and Torre Design Consortium, zoo designers, to lead the effort of reimagining Greenwood Park and the Baton Rouge Zoo as one cohesive community asset that everyone in East Baton Rouge Parish could be proud of. Greenwood Park is the largest park in BREC's system, comprising 660 acres and containing a va-riety of quality wooded habitats, pastoral open spaces, bayous and lakes. The natural features of BREC's largest park sets the stage for a bold master plan vision focused on a one-of-a-kind, world class destination that will also couple as an innovative green infrastructure solution to assist with flood mitigation for the surrounding area. During the master planning process in 2019, BREC and the design team conducted an intensive public engagement process, involving open house meet-ings, creative online survey experiences, and a statistically representative door-to-door survey across the entire parish that enabled direct interactions with parish citizens. The master planning process culminated with a large "Party-in-the-Park" event in August of 2019 where the master plan was unveiled with nearly 1,000 people in attendance. The resulting master plan represented a broad community consensus and support around a Phase I design that will include roughly $40 million in BREC funded improvements for the park and zoo.
The Phase I construction project will be built by the Lemoine Company through the State's Con-struction Manager at Risk (CMAR) delivery model – allowed for projects that exceed $15 million. Lemoine is targeting a 30% level of disadvantaged business entity (DBE) subcontractor participa-tion. This first phase aims to achieve the master plan's guiding principles to ensure that this first investment made sets up the park and Zoo for long-term success. A defining feature of
the site design includes the relocation of the Zoo's entrance into the heart of the park, where a dra-matic arrival sequence guides visitors to a new entry plaza and building. The zoo improvements will also feature a dramatic new orientation plaza with an interactive fountain; a new giraffe exhibit and feeding platform where kids of all ages can get up close and personal to the giraffes; a new un-derwater pygmy hippo exhibit; and new birds of prey aviaries, and a new Jaguar/Bear exhibit to name a few.
Major programmatic additions to the park include the Bayou Promenade, a winding walkway along Cypress Bayou that will offer spaces for families and other groups to gather under the shade trees and bring visitors closer to native plants of the bayou ecosystem. Areas along Cypress Bayou will also feature some piloted examples of BREC's new core tenets of environmental sustainability, conservation, and resilience. Like the majority of BREC parks, Greenwood Park is located in a bayou/creek watershed where water from upstream flows downstream into the Comite River. As part of the overall master plan, the 660-acre Greenwood Park will be transformed into a multi-functional recreational amenity that will serve as a model for both regional stormwater management and site scale design. Phase I will feature some of these intentional design elements of increased, natural flood storage capacities through the laying back of slopes along the bayou, site design that will allow stormwater to infiltrate into the ground, and the creation of landscapes that are intention-ally floodable, while providing educational moments along the bayou for the community to under-stand the value of well-planned green infrastructure. Phase I also includes master plan segments of a large expansive Louisiana-themed Adventure Playground that will include uniquely designed play areas for all ages and abilities featuring big green slopes, giant slides, tree houses, suspended structures, and a giant Louisiana Black Bear as an iconic element. The existing 9-hole J.S. Clark Golf Course will be redesigned with a new routing and expansion of the nine holes to be a longer, more challenging regulation course. This Phase I implementation project will be the first step in creating one highly identifiable, signature destination that elevates the park and Zoo to a level of excellence in green infrastructure, modern zoo design, recreation, conservation, resiliency, health and wellness, and most importantly, social cohesion and community pride.
For more information, contact BREC's Special Events Manager Jasmine Moore at 225-272-9200 ext. 1143 or Jasmine.Moore@brec.org