Construction News
Tuesday, January 8, 2019
BREC Broke Out the Hard Hats in 2018 Investing More Than $12 Million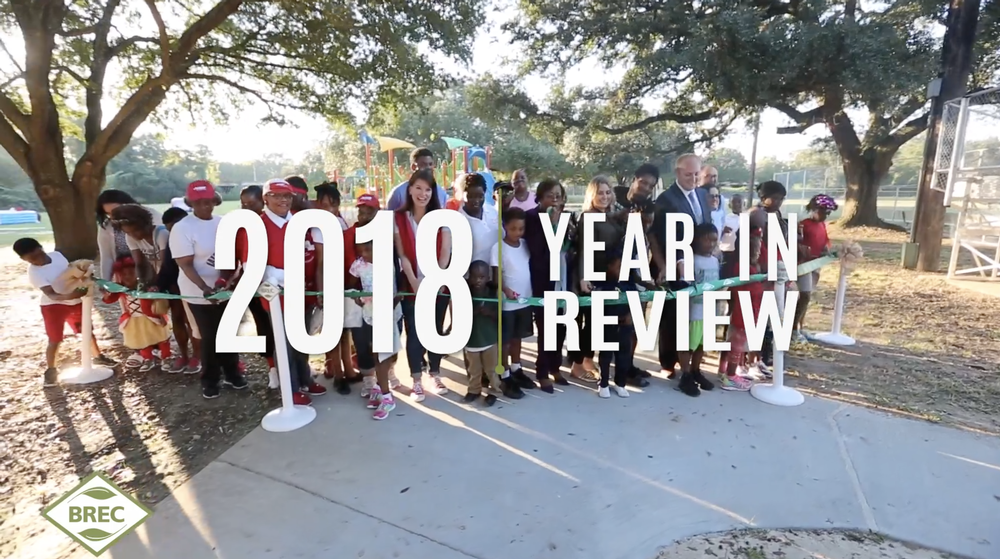 Continuing steady progress on the implementation of the Imagine Your Parks 2 strategic plan, BREC invested more than $12-million on fourteen completed projects, and fifteen others in the planning phase, in 2018. Dozens of new amenities were introduced to parks throughout the parish with even more underway for the coming year to help residents of all ages play, discover and grow in their park system.
Residents will find new playgrounds, basketball courts, splash pads, fishing ponds, pavilions, drinking fountains, restrooms, walking trails and more. In 2018, BREC heightened the quality of parks and facilities and improved the level of safety and security through more trail connectivity, paved and lighted walking loops and new LED lighting systems.
BREC installed and renovated ten new playgrounds, including the addition of a zipline and adventure playground at the 72-acre addition to Howell Community Park with smaller play areas at neighborhood parks such as Hartley/Vey at Gardere, Riverbend, Spain Street, Erich and Lea Sternberg and Fiesta Parks. Shade sails were added over the playground at Highland Community Park and benches at Jackson Community Park splash pad for cool shaded space. North Sherwood Forest Community Park has BREC's newest splashpad raising the system's total to seven. BREC also reinforced its commitment to health and wellness by adding more outdoor fitness equipment, walking paths and loops, renovated tennis courts and four improved basketball courts.
Phase one of the Botanical Gardens at Independence Park was completed providing a Front Gate to the new garden promenade enhanced with the exquisite, renaissance-inspired architecture in the new butterfly and parterre garden. The space also features a new lawn garden, connectivity to the Main Library Plaza and Garden Cafe, picnic pavilions and fully renovated Garden Center. Two new multi-use fields were welcomed to the BREC system, equipped with two scoreboards and bleachers at Milton J. Womack Park.
In total, BREC invested more than $12 million in the East Baton Rouge Parish community on completed construction projects. These projects include those contracted as well as in-house projects constructed by the BREC Capital Improvements Team.
BREC Project

*Indicates projects enhanced by donations or grants

Amount

(Includes contracted amount and BREC projects done in house.)

Bluebonnet Swamp and Nature Center

$695,729

*Highland Road Community Park Shade Sails

$43,430

Erich and Lea Sternberg Park

$34,919

Fiesta Park

$123,272

*Hartley/Vey Park at Gardere Lane

$391,488

Howell Community Park

$3,587,850

*Botanical Gardens at Independence Community Park

$1,861,285

*Longfellow Park

$360,369

Magnolia Mound Hart House

$356,342

North Sherwood Forest Community Park

$3,644,590

*Riverbend Park

$196,855

Spain Street Park

$113,182

West Brookstown

$75,768

*Milton J. Womack Park Fields

$521,855



"As I look back on my seven-years at BREC, my favorite memories involve the many ribbon-cuttings and groundbreakings we held to celebrate our progress in implementing the Imagine Your Parks 2 strategic plan," said BREC Superintendent Carolyn McKnight. "BREC made a promise to the community in 2004 to transform what had become an aging system made up primarily of small neighborhood parks and special use facilities. We have continued to make good on that promise, and I am confident that the Commission and staff will continue the important work already begun on large-scale projects. BREC is poised for another special year in 2019 and I am excited to see the results of careful planning and community input," said McKnight.
Construction has begun at Church Street and Lovett Road Community Parks and will soon start at Jackson Community Park to expand and air condition the recreation centers along with full restoration after the flood in 2016. The CAPP trails system continues to grow, with a nearly completed pedestrian and bike trail crossing over the Wards Creek bridge connecting two spans of the trail along Bluebonnet and Siegen near the new Ochsner Surgical Center, and an addition of BREC's second canoe and kayak launch at Manchac Park connecting the blueway to the Highland Road.
In 2018, BREC hired two nationally renowned designs teams to create new master plans for the Baton Rouge Zoo and Greenwood Community Park with plans for the first public meetings to take place in January. BREC leadership is waiting to learn if FEMA will approve drawings to create safe rooms for first responders that will double as state-of-the-art recreations centers for first responders at Airline Highway, Memorial Stadium and Greenwood Community Park. Construction is also set to begin on a Boys and Girls Clubhouse at Howell Community Park and the elevation of the swimming pool and renovated pool house.
To learn more about completed and upcoming projects, visit brec.org/ParkImprovements.