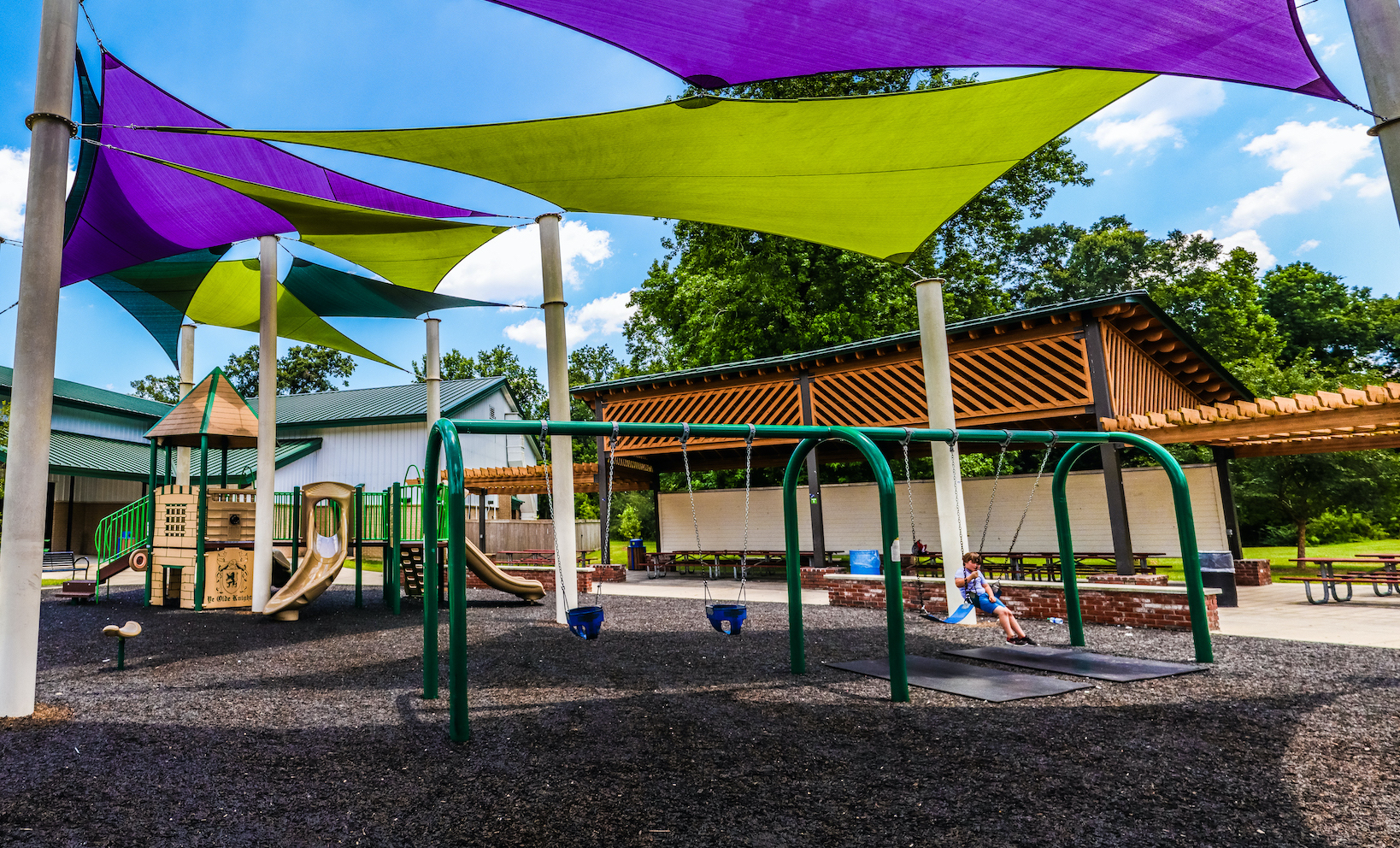 This Month at BREC
March 2023
This weekend, we March fourth into spring fun! Spring officially begins in March and we aren't letting this opportune weather pass us by! We have many chances for the artists to express themselves, those with a thirst for knowledge can get their ology on - geo or astro - and, of course, we have the egg hunts you just can't miss. And for you sports & fitness fanatics, don't miss the glow in the park events or the fun run where we bring a little carnival season to March. All this and more - this month at BREC!
Programs & Events
Check out some of our exciting upcoming events and programs. Click the event name to get more info.
For a full list, visit our events calendar.
Independence Park Theatre
Independence Park Theatre presents Polkadots-The Cook Kids Musical. This family musical, inspired by the Little Rock 9, reminds and teaches young audiences that our individual differences make us awesome, not outcasts. Tickets on sale now for this colorful history lesson reminding us that our differences are to be celebrated!
March 2
7 p.m.
Baringer Art Center
Have a question? Need more space? Lack motivation? Then this new, FREE offering from BREC Art is for you! Bring your supplies and your art piece to our studio time and let professional artist, Holly Stone-Barker provide guidance, give useful and practical advice and inspire you to begin or finish a polished piece of art! Basic supplies including water cups, paper towels, a variety of used brushes, basic paint colors, color pencils and a basic palette of watercolors, will be available. REMEMBER: This is NOT a class! This is a time for artists to gather, get advice, share work and meet like-minded friends.
March 3
9:30 a.m.-noon
Baringer Art Center
Tired of the same ol' paint and drink?! If so, then check out BREC Art's adult-only, fun and creative grown-up timeouts. Each of these classes are designed to encourage and inspire while enjoying beverages and nibbles. All art supplies, nibbles and adult (or not) beverages are included.
Great for friend get-togethers, bridal parties, corporate team building or just making new friends! Private ART UnWINEd bookings are also available. Must be 21 to join the fun.
March 3
6:30-8:30 p.m.
Comite River Park
Join us for BREC's 3rd annual Comite River Run! Runners will take to the trails for a 5-mile loop along the river and through the woods. Join us after the race for food and a little fun. Awards will be given for 1st- 3rd in the Men's and Women's division. There will also be finisher medals for all runners who complete the course
March 4
8 a.m.-1 p.m.
Anna T. Jordan Community Park
Grab your lawn chair or blanket and HOP on in to enjoy a day filled with family fun. There will be exciting spring themed activities prior to the start of the movie. Check out BREC's Facebook page or brec.org to see the movie lineup.
March 8
noon-3 p.m.
Milton J. Womack Park
We are excited to partner with Outdoor Adventure for Inclusive Archery 101! These one-day inclusive introduction classes teach the fundamentals of archery. Guardians/ Caregivers are encouraged to participate and share in the fun that comes with shooting a bow and arrow. BREC will provide all equipment necessary.
March 9
6-7 p.m.
Highland Road Park Observatory
Which stars are seen first? Are Mercury and Venus or the Moon out? Is that moving object a plane, a satellite or space debris? There is no other time like twilight. Bring it into your life!
March 10
5:30-7:30 p.m.
Antioch Boulevard Park
Ready... Set... Glow! Gather friends and family for glow-in-the-dark team-based games at locations throughout the parish.
March 10
6-7:30 p.m.
Jackson Community Park
Ready... Set... Glow! Gather friends and family for glow-in-the-dark team-based games at locations throughout the parish.
March 10
6-7:30 p.m.
Perkins Road Community Park
Laisse les bon temps rouler, marcher, courir! We are bringing Mardi Gras flair to BREC Adaptive's annual Roll, Walk, Run this year in honor of Developmental Disability Awareness Month. The Mardi Gras Fun Run is open to everyone regardless of your ability. The Developmental Disability awareness color is yellow - we encourage plenty of purple and green but go all out with moving in whatever way you can!
March 11
10 a.m.-noon
Bluebonnet Swamp Nature Center
Join us to explore the exciting world of rocks, minerals, gemstones, and fossils. Add to your rock collection or find some unique gift items at our Rockhound Market. Try your skill scaling our rock climbing wall. Learn to identify different rocks and minerals and make your own take-home identification card on our Treasure Trail. Experience the excitement of the gold rush while hunting for iron pyrite in our Gold Mine. Try out some rockin' crafts or paint your own Rock Animal in our craft corner. Explore ancient life forms in the Fossil Quarry. This is one rockin' day of fun highlighting geology and earth science. Pass discounts are available.
March 11
9 a.m.-4 p.m.
Baringer Road Park
Join BREC Art and artists for our first ArtsFest @Baringer Park. This free, immersive experience will give the public a chance to see what BREC Art can do for your creative instincts. Live artist demonstrations including painting, pottery wheel throwing, sculpture, encaustic painting, printmaking and art journaling. Some "curious arts" will be explored with demonstrations of macrame/fiber arts, Ikebana and latte art. Mural painting on the Baringer Art Center will be in progress for the public to view. For the kids, lots of creative play and art activities to join in and a sidewalk chalk drawing contest as well!
March 11
5-8 p.m.
Baringer Art Center
Join us at BREC's Baringer Art Center for our first-ever series of workshops for adults. These two-hour workshops will highlight a different art process at each meeting. Designed for participants to learn skills that will enable them to continue their interests on their own. Each session will be taught by professional artist and illustrator, Holly Stone-Barker. All supplies included.
March 13
9:30-11:30 a.m.
Baton Rouge Zoo
This program is designed for 3- to 5-year-old children accompanied by a parent or guardian. Every Zoo & Me Morning incorporates exciting activities including animal encounters, art projects, "Zooper" snacks and many other hands-on projects that you and your child can enjoy together.
March 14
9:30-11:30 a.m.
Baton Rouge Zoo
We'd like to thank all of our Zoo members, and what better way than to invite them over for a night exclusive access to the Zoo! See what the Zoo is like after the gates close to the public on Friday, March 17th. Admission gates are open from 4 p.m. - 6:30 p.m., and grounds close at 7 p.m. Members are encouraged to come early, and don't forget to bring your flashlight for after dusk!
March 17
4-6:30 p.m.
Milton J. Womack Park
Dance the night away with BREC Adaptive and Families Helping Families as we host our monthly Sunshine Socials for adults and teens with intellectual and developmental disabilities and their friends and family. Be creative and dress to match each month's theme. Enjoy dinner, dancing, and door prizes.
March 17
6-9 p.m.
Cedar Ridge Drive Park + North Street Park
Want to enjoy family bonding time? Join us for family game night, every third Friday of the month to choose from a variety of activities, board games and teambuilding games. Grab your family members and friends to join us for a night of family fun.
March 17
6-7:30 p.m.
Jackson Community Park
Question - What do you get when you combine kids, eggs, prizes, and fun? You get BREC's Continuous Egg Hunt! We invite you to join us for this family-fun event - games, face painting, bounce houses, arts & crafts, petting zoo, and a special appearance from - just you wait and see!
March 18
1-3 p.m.
Sports Academy
BREC Athletics invites the public to a BREC Basketball Open House for the 2023 Winter Youth Championships on March19, 2023, noon-6 p.m. Guests will get to watch BREC Athletics' best of thebest in the Youth Basketball League, as they square off in championship play! Players of all ages will also be able to learn about upcoming leagues, camps and clinics that BREC Athletics will be hosting throughout the upcoming year. Learn about BREC facilities talk with coaches, special guests, and more!
March 19
noon-6 p.m.
Lovett Road Park
Get inspired through games, crafts, and activities highlighting our favorite summer camp moments. Each camp-in day will highlight different specialty weeks from the summer such as STEAM, Safari, and Power-Up along with guests/instructors and/or field trips. Campers should bring a lunch and 2 snacks and be dressed for indoor and outdoor activities.
March 20
7:30 a.m.-5:30 p.m.
Ben Burge Park
Learning a second language at an early age not only advances kids educationally but gives kids great confidence in learning and a bigger view of the world. This introductory and interactive session for both English and Spanish speakers will help develop basic conversational vocabulary that promotes communication in a bilingual community and throughout.
March 21
1-3:30 p.m.
Saia Park
Create your own special work of art using a variety of mediums including paints and chalks in your own style with your hands, fingers and brushes.
March 25
noon-2 p.m.
Forest Community Park
Question - What do you get when you combine kids, eggs, prizes, and fun? You get BREC's Continuous Egg Hunt! We invite you to join us for this family-fun event - games, face painting, bounce houses, arts & crafts, and a special appearance from - just you wait and see!
March 25
1-3 p.m.
Highland Road Park Observatory
Get something extra beyond standard viewing: sky tours, physical science demos, "birth" stars and a marshmallow roast. Each Plus Night has a unique theme, make sure to check out our website for theme details.
March 25
7-10 p.m.
Greenwood Community Park Tennis Center
This one-day doubles tournament features a round robin format. Divisions for men's, women's, and mixed. Lunch will be provided. Tournament director has discretion to move players to a different skill level. Completed teams with partners and teams that are paid in full have priority on available slots. No refunds processed after registration deadline.
March 25
8 a.m.-6 p.m.
Ben Burge Park
Deciding on the career path you want to take in life is a challenge, especially for youth. This development course for Middle and High School students will explore career opportunities, how to ensure the correct preparation to reach your goals and the importance of supportive mentors throughout the whole process. A meal is included. Registration is required.
March 28
6:30-8 p.m.
Zachary Community Park
Hop into spring with BREC Adaptive's Sensory Bunny! Children and adults with disabilities are invited to join us for activities and pictures with the Easter Bunny, while avoiding long lines. See you on the bunny trail!
March 31
6-8 p.m.