Construction News
Friday, August 11, 2017
BREC and St. Patrick's Church & Day School Postpone Ribbon Cutting Event at BREC's Rita Street Park
New Date Set for Sunday, September 17 from 3 – 5 p.m.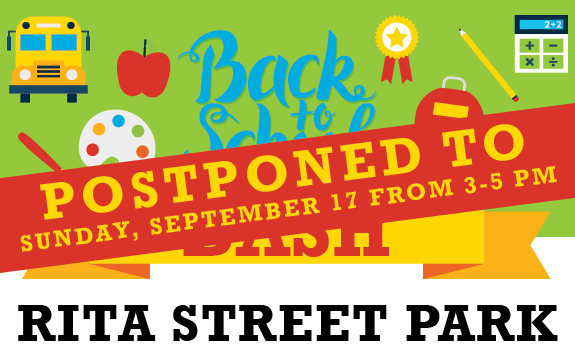 BREC recently completed improvements and construction of a new playground and other amenities at Rita Street Park located at 2315 Rita Street in Zachary. A ribbon cutting and back to school event originally planned for Friday, August 11 has been postponed due to rain and muddy conditions at the park. The new date for the celebration will be Sunday, September 17 from 3 – 5 p.m.
The playground features new swings, a new play unit for ages 2-12 and a picnic area within the shade of the trees. The playground sand has been replaced with wood mulch safety surfacing and enhancements were completed to the tennis court, restroom and ball field dugouts. The new additions join Rita Street's existing amenities including two ball/multi-purpose fields, soccer field and tennis court. New sidewalks now connect the parking lot to the playground, tennis court and an adjacent neighborhood sidewalk. In addition, the Windwood Neighborhood to the north of the park has built a sidewalk on common green space connecting the neighbors to the park.
The playground addition and renovations at Rita Street Park have been made possible through local collaboration and hard work thanks to BREC Planning and Engineering, the In-House Capital Improvement division and by the local manufacturer, Planet Recess.
Through a partnership with St. Patrick's Episcopal Church and Day School, the grand opening activities and Back to School Bash event is sure to be a celebration to begin the new school year right. Patrons are invited to join BREC and St. Patrick's for a host of family fun activities. Visitors to the park will enjoy recreational games, BREC on the Geaux, face painting, music, giveaways, Tucker's Seafood food truck, the Library Bookmobile, back to school blessing, family fun and more!
For more information on this event, contact BREC's Volunteer and Special Events Manager Monica Dugas at 225-272-9200 ext. 446 or mdugas@brec.org. For more information on St. Patrick's Episcopal Church and Day School visit stpatszachary.org or call 225-654-4091.