Construction News
Thursday, July 7, 2016
BREC to Break Ground on New Amenities at North Sherwood Forest Community Park
Public Invited to Attend Groundbreaking Ceremony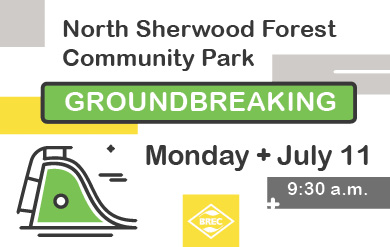 BREC will begin construction soon on several new amenities at North Sherwood Forest Community Park. There will be a groundbreaking ceremony to kick off renovations on Monday, July 11 at 9:30 a.m. The park is located at 3140 North Sherwood Forest Drive.
North Sherwood Forest is a community park and serves a larger geographic area than a neighborhood park. Community parks are designed to offer amenities for the entire family for a whole day. The site is on the old Federal Sharp Station Depot used during World War II. Over the years, the federal government has released the land at different times to BREC for use as a park. Today the park features BREC's only indoor, air-conditioned walking track. The park is home to a host of other amenities including a fitness center, party and meeting rooms, a virtual park, indoor play area, indoor theatre, a fishing pond, playground and pavilions.
The outside areas of the park are set to receive an amazing transformation. The current playground area will be completely renovated and become home to an activity hub with a new play area, splash pad and promenade at the water's edge of the pond. This splash pad will be the seventh in the BREC system. Other new amenities will include additional restrooms, fitness stations, a half mile walking loop, tennis court, pavilions, site furnishings, landscaping and lighting. In addition, the pond will be expanded and fishing piers added.
For more information on the North Sherwood Forest groundbreaking, contact BREC Volunteers and Special Events Manager Monica Dugas at mdugas@brec.org.