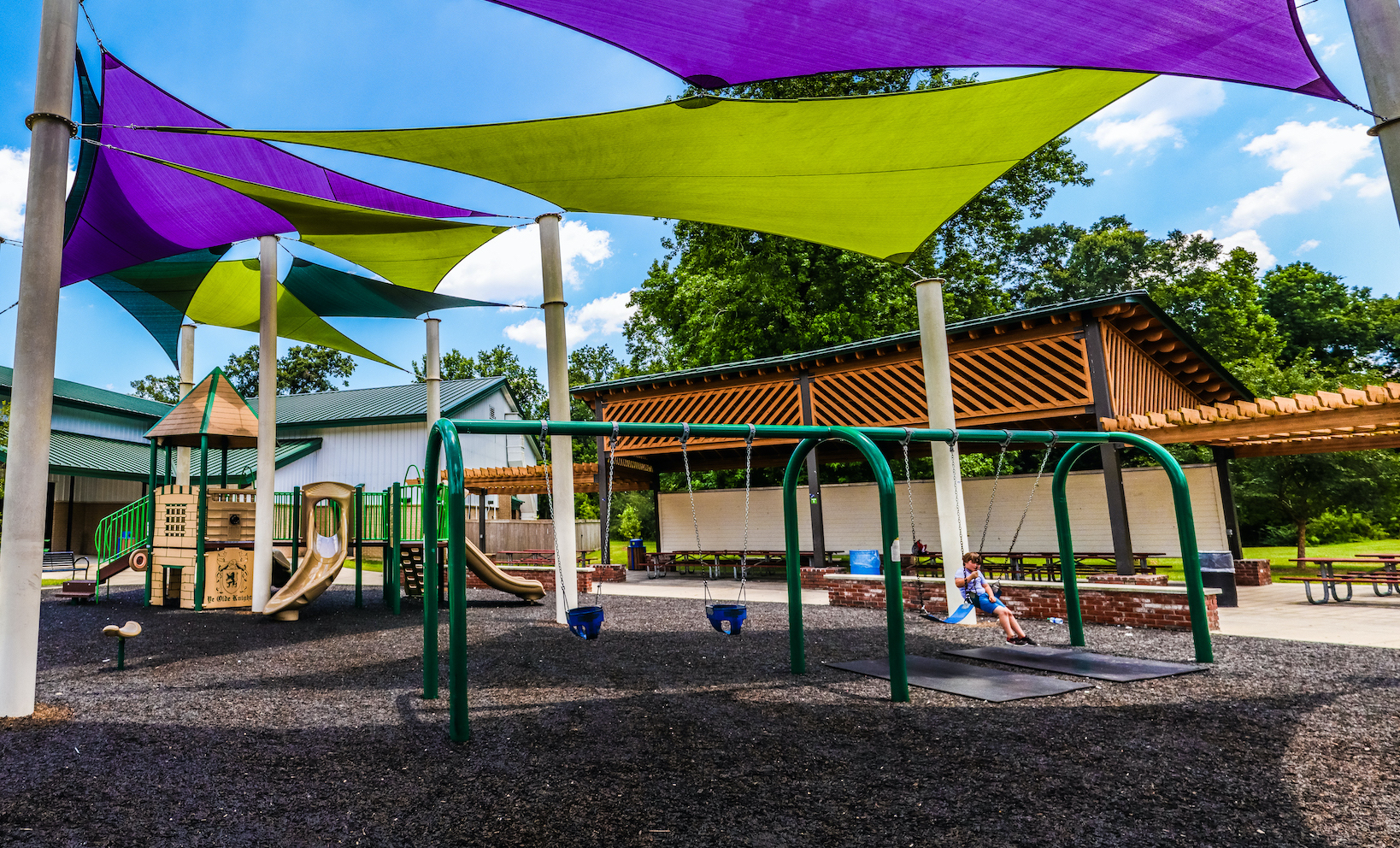 IYP 2004-2014: Community Parks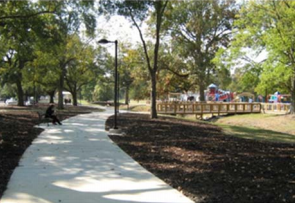 Anna T. Jordan Community Park
Total Project Cost: $2,360,480
The scope of the project was to elevate the quality of the existing park through improvements of its existing recreation elements of baseball fields, playground, open spaces, parking and vehicular access. In addition, the introduction of new program elements such as a new concession and restroom structure for the baseball fields, extensive lighted walking paths, park shelters, social spaces, site furnishings, interpretive information, foot bridges spanning a creek, and an overall improved unity and visual identity for the park. In the summer of 2014 major renovations were completed to Anna T Jordan community pool and bath house.
---
---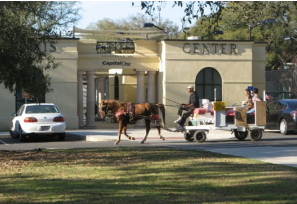 City Brooks Community Park
Total Project Cost:$7,305,000
A conceptual master plan for BREC's oldest and most historic park was completed in 2004 by Henslee-Cox, Landscape Architects. This plan was further developed by Carol R. Johnson Associates of Boston, a firm with expertise in historic urban parks and golf courses. CRJA completed a detailed analysis of the master plan while facilitating additional public workshops so that the final plan fit the vision and values of the community. The thorough analysis and design development resulted in a new vision of this 153 acre historic park that has transformed the park into a very active and important part of the surrounding neighborhoods. The new improvements include a meandering promenade beneath old live oaks, fountains, outdoor gathering spaces, a new thematic playground, dog park, Labyrinth, renovated golf course and special details and materials honoring the park's historic past.
---
---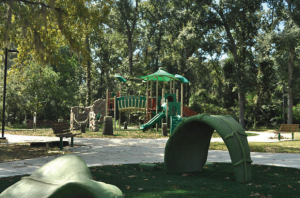 Forest Communtiy Park
Total Project Cost:$5,405,000
This 114?acre Community Park is 57 years old and is considered one of the community's oldest recreation facilities. It is located in the southeastern part of East Baton Rouge Parish. The new renovation and improvements to the park include a new delightfully themed playground, new modern restroom facilities, new splash pad, eight refurbished tennis courts, three new tennis courts, a renovated tennis center, three renovated ball fields, a new dog park, fishing pond and pier, lighted multi?use paths, seven picnic pavilions, upgraded recreation center and new environ? mentally sustainable parking lots. The park's vehicular circulation system was redesigned to provide a more organized and user?friendly structure to the various park spaces and facilities. New way?finding signage and entry features provide a warm welcome to park users.
---
---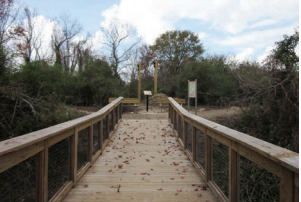 Greenwood Community Park
Total Project Cost:$8,672,000
Greenwood Community Park underwent a major transformation and re?opened to the public in October 2011 with vast improvements intended to serve the community at a higher level with recreational opportunities involving the entire family. Improvements include an 18 acre lake with fishing piers and boat slips, amphitheater, and ExxonMobil Nature Trail; a new community playground and spray pad with restroom facilities for visitors; a new Raising Cane's dog park; an 18-hole disc golf course, and a renovated tennis center. The park also features "The Waterfront" a new multi?use building housing the Dumas Pro Shop, Waterfront Café, and a large meeting room
---
---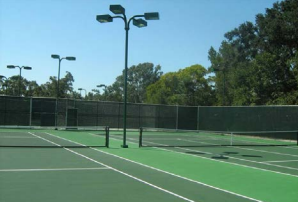 Highland Road Community Park
Total Project Cost:$5,753,000
Highland Road Park is in the midst of a transformation into a Community Park. The park has remained open to the public during construction phases. Phase I is complete with renovations and additions to the parking lots near the Recreation Center and also near the ball fields along Highland Road. Five additional tennis courts were built and 14 existing courts were refurbished. Phase II included the construction of a new parking lot along Amiss Road, a 2/3 mile walking path with benches, exercise station, a Grand Pavilion with the Great Lawn, and a promenade with benches and landscaping. Phase III includes a new community playground, spray pad and renovations to the recreation Center.
---
---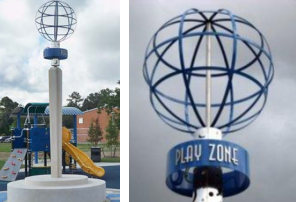 Howell Community Park
Total Project Cost:$3,150,000
Howell Community Park underwent a major transformation and re-opened to the public in October 2009 with vast improvements intended to serve the community at a higher level with recreational opportunities involving the entire family. Improvements include new asphalt paved parking areas, extensive concrete walks and plazas and architectural site lighting. The ball field and tennis courts were renovated and sand volleyball was added and a new concession building was built along with new architectural picnic shelters. Children of all ages are having a great time exploring the new celestial-themed community playground complete with rubber safety surfacing and site furnishings.
---
---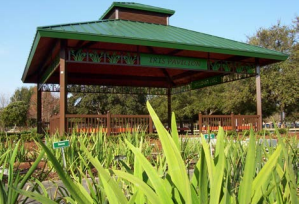 Independence Community Park
Total Project Cost:$12,685,000
Independence Community Park improvements include the construction of the new Liberty Lagoon Family Aquatic Center, a new Iris pavilion with new garden arbors tucked into the Iris Garden, improved parking throughout the park and a 12 ft. wide, half-mile crushed stone path along Independence Boulevard that will eventually be extended as a 1.3 mile loop around the entire south side of the park. The new Main EBRP Library now features an outdoor plaza that will serve as an inviting social space and organize connections to the surrounding library, BREC's Café and Teaching Garden Building and to Independence Botanical Gardens.
---
---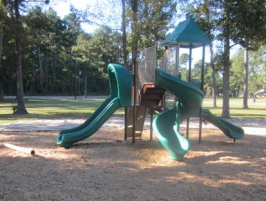 Jackson Community Park
Total Project Cost: $530,000
Jackson Community Park is undergoing a master planning process for park renovations. In 2012, two public planning meetings were held for Jackson Park. During one planning meeting, it was determined that Jackson Park would be the community park in the City of Central. At the other, a conceptual master plan was presented to the public showing potential site enhancements throughout the park and to gain insight for the preferred location of a new splash pad.
---
---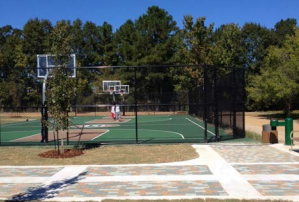 North Sherwood Forest Community Park
Total Project Cost: $3,842,495
The redevelopment of this project has spanned many years. Improvements include a renovated Family Recreation Center featuring an indoor track, playground, theater, kitchen, fitness center, aerobics room and an interactive "virtual" park. Outdoor improvements include a new asphalt driveway and parking lots, site lighting. The removal of the former BREC Administration Building made way for a new basketball court, pavilion, plaza and additional parking. Current design work is focused on the development of a new community playground, splash pad, walking trail and lake improvements.
---
---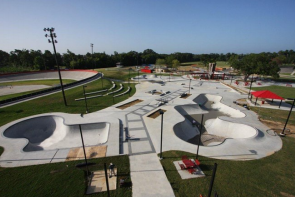 Perkins Road Community Park
Total Project Cost: $5,780,000
This 52-acre Community Park is one of nine existing neighborhood parks that were transformed into a Community Park as part of BREC's "Imagine Your Parks" plan passed by EBR Parish voters in 2004. Because the design for each Community Park evolves from public input, each one takes on a personality that reflects the needs of that particular community. Perkins has become known as BREC's "Extreme Sports Park" because its venues are focused primarily toward kids, teens and young adults. The park's venues include a new state-of-the art skate park, climbing wall, a renovated BMX Track, an "extreme" themed playground, a velodrome and outdoor sand volleyball courts. The park also features a new one-acre lake for paddling and fishing, four picnic shelters, resurfaced tennis courts, a sand volleyball court, a new toddler play area, and an extensive network of multi-use paths.
---
---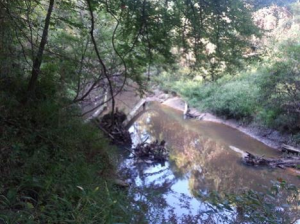 Sandy Creek Community Park
Total Project Cost: $1,142,000
BREC "Imagine Your Parks" Strategic Plan called for a Community-Level park to be placed in the Northeast portion of East Baton Rouge Parish. After an intensive land study, BREC acquired approximately 400 acres on March 11, 2011 from several landowners in the northeast part of Parish. This land acquisition was the final Community Park site that BREC needed to acquire for the Imagine Your Parks Plan. Sandy Creek Community Park will serve the northeast portion of the parish, but will have a regional draw. Ideas for the park include an equestrian theme, complete with horse trails, and a community playground and trails for mountain bike riding. Other amenities will be determined with public input during the master planning process.
---
---
Zachary Community Park
Total Project Cost: $4,053,057
Land was acquired next to the existing Zachary Youth Park in 2005 for the development of Zachary Community Park. The former agricultural land has was reshaped to create a park for the whole family. The first phase of construction includes an entry drive, parking lots, basketball and sand volleyball courts, a dog park, fishing pond, restroom building, signage, extensive walking paths, picnic shelters, site furnishings, and site lighting. Next a modular skate park and a fishing pier were installed. The third phase included two plazas, a park building with a meeting room, restrooms, and equipment storage. In 2013, 15 acres of additional land was purchased for future growth totaling 50 acres for this Community Park. Next to be completed will be a community playground and splash pad.
---