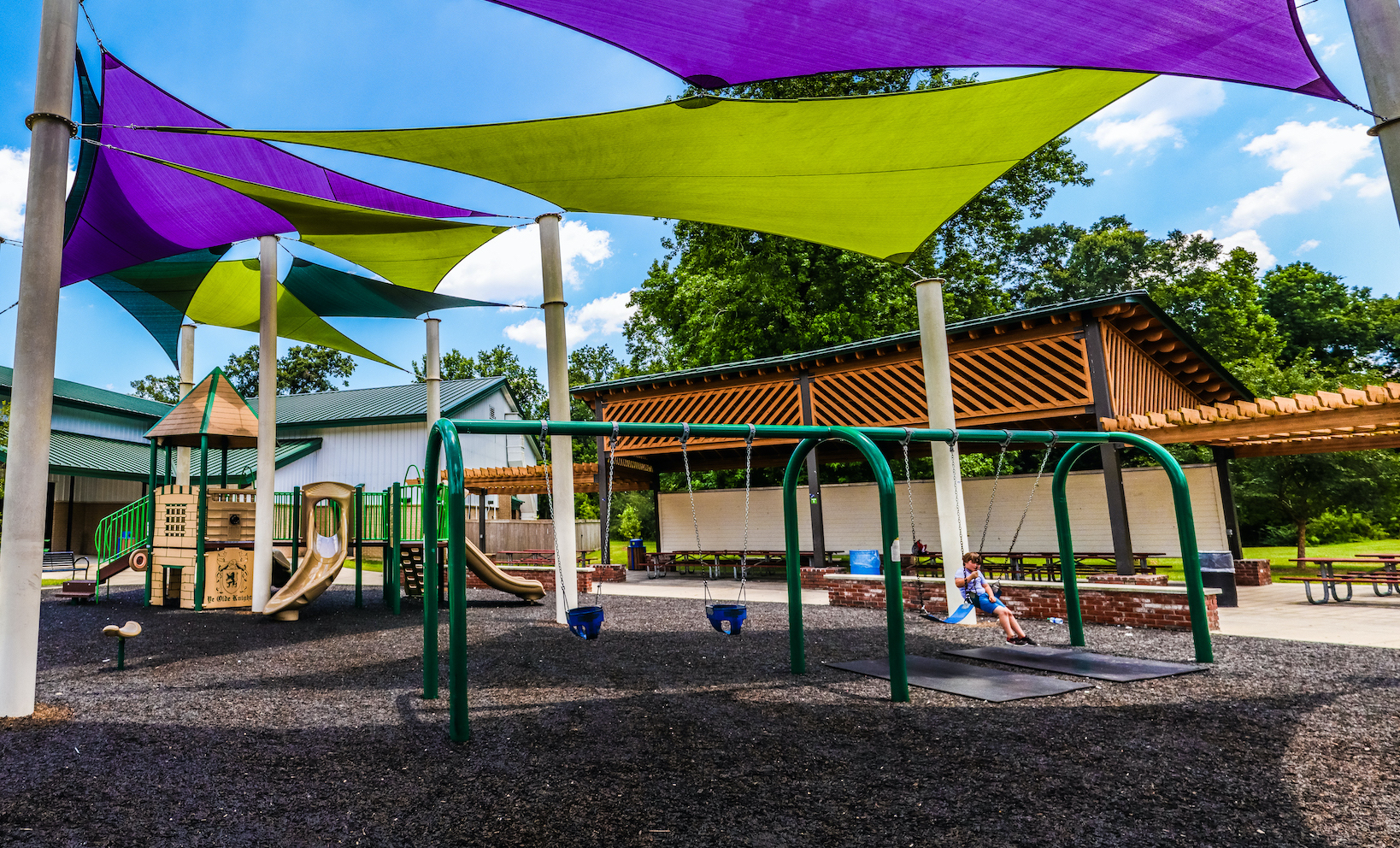 General Park & Picnic Pavilion Rentals
Rentals - General Park & Picnic Pavilions
Greenwood Community Park
Fees
| | |
| --- | --- |
| Flying Fortress Pavilion - 4 hours: | $80 |
| Flying Fortress Pavilion - Additional Hour: | $20 per hour |
| Flying Fortress - Damage Deposit: | $100 |
| Outdoor Amphitheater - Commercial Rental: | $100 per hour |
| Outdoor Amphitheater - Non-profit Rental: | $50 per hour |
| Outdoor Amphitheater - Damage Deposit: | $200 per hour |
| Waterfront Theater - 4 hours Commercial Rental: | $400 |
| Waterfront Theater - 4 hours Non-profit Rental: | $200 |
| Waterfront Theater - Additional Hour: | $100 per hour |
| Waterfront Theater - Damage Deposit: | $200 |
Picnic Pavilions
Fees*
| | |
| --- | --- |
| Anna T. Jordan Community Park - 4 hours: | $60 |
| Forest Community Park - 4 hours: | $60 |
| Highland Community Road Park - 4 hours | $75 |
| Howell Community Park Pavilion 1 - 4 hours: | $75 |
| Howell Community Park Pavilion 2/3 - 4 hours: | $60 |
| Independence Community Park - 4 hours: | $60 |
| Jefferson Terrace Park - 4 hours: | $75 |
| North Sherwood Community Park - 4 hours: | $75 |
| Perkins Community Park - 4 hours: | $75 |
| Zachary Community Park - 4 hours: | $60 |
| Damage Deposite - ALL PAVILIONS: | $100 |
Rental of Pavilions included a permit for 1 of the following: BBQ Grill, Dry Inflatable, and Tent. Permits for additional items may be purchased for $10.
*All fees listed above apply to East Baton Rouge Parish Residents. An additional 20% is charged for all non-residents.
Download the full, detailed list of picnic pavilion rental opportunities
All parks are still first-come, first-serve for picnic pavilion usage. However, park users can now rent pavilions in a growing number of BREC parks. These park sites are in high demand. Renting a picnic pavilion allows the park user to have some "peace of mind" when preparing a child's birthday party, family reunion or association gathering at that park. If you rent a pavilion, then there is no reason to go to the park to "stake out" your tables and pavilion ahead of time. The site will be clean and ready upon your arrival.
Inflatable: One dry inflatable is allowed and may not exceed 30'L x 15' W x 18'H operated by a quiet run generator only (electricity is not available). Water slides, water games, swimming pools, dunk tanks; petting zoos, pony/horse rides, amusement rides or any other equipment not inherent to park property is prohibited. Inflatable provider insurance ($1 million general liability) is required.

Canopies/Tents: Canopies/tents are limited to one per activity space and no larger than 10' x 10'. Canopies/tents are allowed in areas that do not interfere with the opportunity of enjoyment for others in the park.

Cooking Apparatuses: One personal grill or burner is admitted with this permit (water is not available). Tabletop style grills are not allowed on picnic tables, benches or bleachers. All charcoal from grills, grease from fryers and water with added chemicals or seasonings such as from seafood boils must be removed from the site. Disposing of charcoal, grease or impure water onto park grounds is prohibited.

A non-refundable $10 fee per individual item is required at the time of requesting the permit.
Picnic Pavilion Reservation Information
The parks are established and maintained as areas of recreation and enjoyment for all citizens of the parish. BREC offers a variety of picnic pavilions and parks that may be reserved for special events like birthday parties, family gatherings or corporate functions.
Rental hours for a picnic pavilion are 8:00 a.m. to sunset, unless otherwise posted or approved on permit. Rental fees are based on a 4-hour period and then by the hour thereafter. Use of the pavilion is guaranteed for the period specified in the permit only. Event set-up and clean-up time must be included in the rental period. Please take the permit and your receipt with you to the park on the day of your event. The remainder of the park is open to the public. You must arrive no later than one hour after the scheduled time or the site will be opened to the public and you will forfeit your pavilion rental fee.
All those applying for a pavilion rental permit must be at least 21 years of age.
Rental permits must be kept at all times in the possession of the person to whom it is issued.
A refundable deposit ($100) is required to cover any damage caused to the pavilion during rental.
BREC requires at least a 2-week notice for all pavilion rentals.
Permits will not be issued until rental fees and damage deposits have been paid in full.
Pavilion rentals must be made in person. Telephone reservations will not be accepted.
Call 225-273-6400 to check the date's availability.