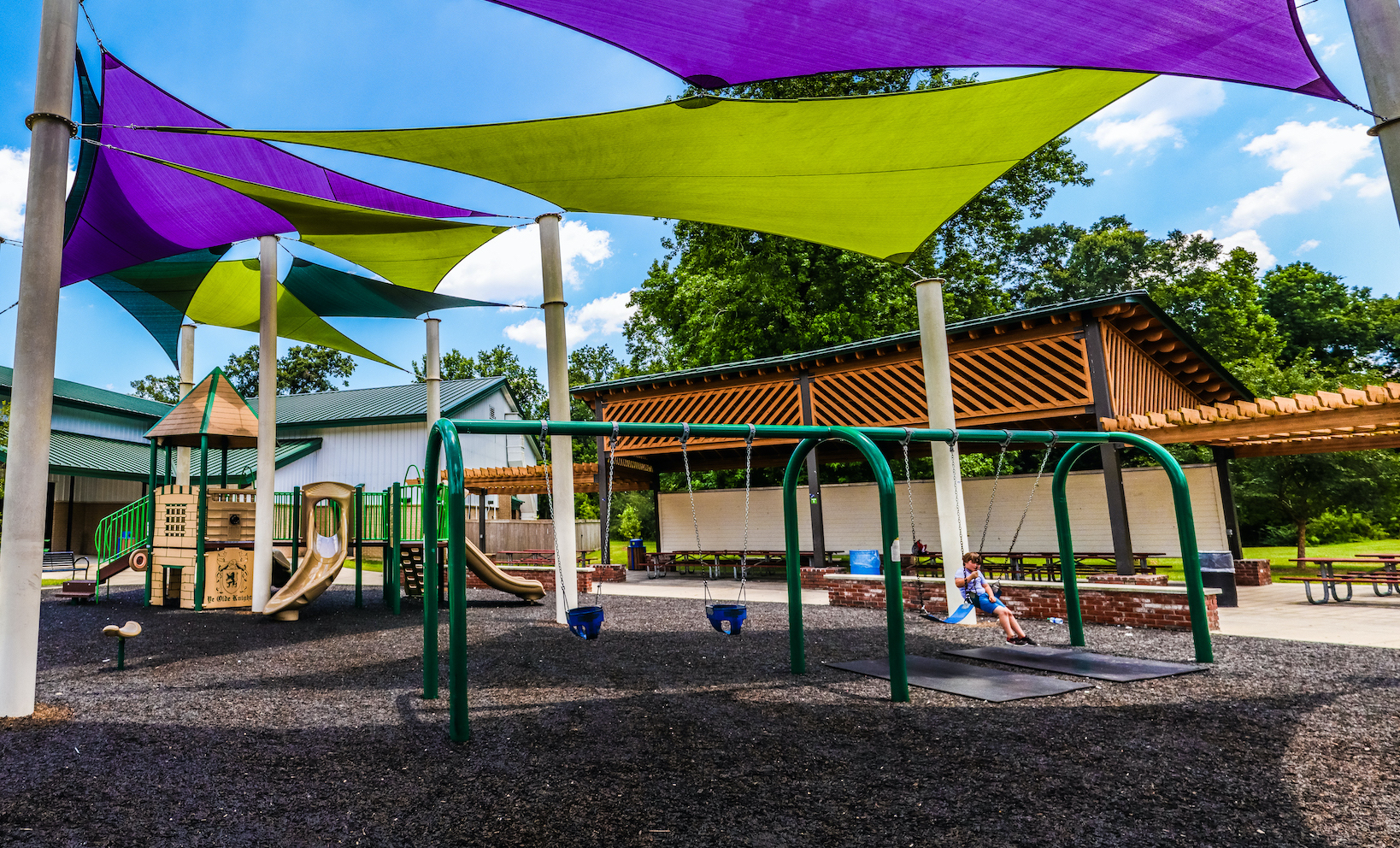 Holiday Camps
BREC Holiday Camps
Click the links below for Holiday Camp information.
Athletics
NO SPRING HOLIDAY CAMPS
Baton Rouge Zoo
3601 Thomas Road
225-775-3877
brzoo.org
SPRING ZOO CAMP
What could be more fun during spring break than hanging out with the animals? Zoo Camp includes guided walks through the Zoo and seasonally-themed games and crafts. Children will also have the opportunity to get up-close-and-personal with Zoo animals.
April 10-14 / 9 a.m.-4 p.m. / Ages: 6-12
$130 per child for EBR Parish residents
$152 per child for out-of-parish residents
Early drop-off at 7:30 a.m. + late pick-up until 5:30 p.m. are available at no additional fee
Bluebonnet Swamp Nature Center
10503 N. Oak Hills Parkway
225-757-8905
brec.org/swamp
facebook.com/brecnaturecenter
swampevents@brec.org
BUSY BEE SPRING CAMP
Bring your child to Bluebonnet Swamp for three days of fun during the holiday break. They'll be treated to nature-based activities such as arts and crafts, live animal encounters, hikes, games, and a themed afternoon snack. Each day will be comprised of different activities, and campers will need to bring a bag lunch and drink each day. Activities in spring camp will focus on springtime topics such as baby animals, blooming plants, and bees. Registration opens March 1.
April 10-12 / 7:30 a.m.-5:30 p.m. / Ages: 6-12
$75 for EBR Parish residents
$90 for out-of-parish residents
BREC Art
Milton J. Womack Park
6201 Florida Blvd
jpoulter@brec.org
brec.org/BRECart
SPRING HOLIDAY ART CAMP
Campers will hop into the season by creating spring inspired art projects in an atmosphere of fun and encouragement. Media for projects includes paint, clay, watercolor, pastels and mixed media.
April 12-14 / 8 a.m.-5 p.m. / Ages: 7-10
$96 for EBR Parish residents
$105.60 for out-of-parish residents
Community Recreation
Mardi Gras Holiday CampLet the good times roll at BREC Mardi Gras Camp! Celebrate the joys of life with super fun days planned for children ages 6-12. Kids will have a blast playing solo and team sports and board games, creating crafts, making friends and much more!
Feb. 20-22 / 7:30 a.m.-5:30 p.m.
Ages: 6-12
Locations:
Antioch Boulevard Park
Church Street Park
Gus Young Avenue Park
Highland Road Community Park
Independence Community Park
Lovett Road Park
Cedar Ridge Park (Sunshine)
Ages: 8-15 / 7:30 a.m. - 3:30 p.m.
$42 per camper
Registration Open Date: February 6, 2023
Registration Close Date: February 22, 2023
Spring Break Camps BREC Holiday Camps are offered for kids to get the most out of their school breaks. During these full days, campers will take part in themed recreational curriculum filled with active and passive games, arts and crafts and more for an opportunity to engage outside of their everyday activities.
April 10-14 / 7:30 a.m.-5:30 p.m.
Ages: 6-12
Locations:
Highland Road Community Park
Independence Community Park
Cedar Ridge Park (Sunshine Camp)
Gus Young Avenue Park
Forest Community Park
Lovett Road Park
Church Street Park
Registration Open Date: March 6
Close Date: April 6, 2023
Conservation
Palomino Drive Park - 14100 Palomino Drive, Central, LA 70739
conservation@brec.org
brec.org/conservation
NATURE EXPLORERS SPRING CAMP
Nature Explorers Camp is all about getting your child outside for a hands-on exploration of nature. Bring your camper to Palomino Drive Park for two days of fun during the Spring Break. Campers will explore the park and enjoy the great outdoors while learning exciting facts about the nature around them. Our activities are designed to keep your camper engaged, learning, and having a blast throughout the entire camp. Each day will be comprised of different activities, outdoor games, crafts, and experiments. For this camp, we will be investigating the wild hustle and bustle of spring. After the nap of winter, nature bursts into life in the spring! Plants and animals race around to wake up and take advantage of nature's bounty before it gets too hot. Come join us as we explore flowers, frogs, and so much more! Campers will need to bring a bag lunch, drink, and snacks each day.
April 10-11 / 7:30 a.m.-5:30 p.m. / Ages: 7-12
$50 for EBR Parish residents
$60 for out-of-parish residents
Farr Park Equestrian Center
6402 River Road
225-769-7805
brec.org/farr
SPRING RIDING CAMPS
Holiday Riding Camp will teach your child basic riding skills, horsemanship, horse care, and stable management, in addition to fun crafts and friendship, while enjoying the beautiful spring weather outdoors. This one-day camp will focus on either English or Western riding in a smaller, more concentrated environment, taught by an instructor specializing in the chosen discipline. All campers will have their own horse, and ride for a total of 1-2 hours per day.
English Riding - April 10
Western Riding - April 11
8 a.m.-1 p.m.
Ages: 9-12 (ten riders maximum) / $75 per day
Highland Road Park Observatory
13800 Highland Road
225-768-9948
hrpo.org
observatory@brec.org
SPACE EXPLORATION CAMP
Campers review highlights of American space program via interactive demos and games. Each session has a theme, chemical rocket construction and science inquiry activities.
April 11-12 / 8 a.m.-5 p.m. / Ages: 9-13
$55 for EBR Parish resident
$66 for out-of-parish resident
Registration deadline: April 4
Magnolia Mound
2161 Nicholson Dr.
225-343-4955
brec.org/magnoliamound
facebook.com/brecmagnoliamound
MAGNOLIA MOUND FALL HOLIDAY CAMP
Campers will explore early 19th century history and make Spring-themed crafts. From touring the historic house to playing old-fashioned games, campers will love learning about the past. The two days will end with campers cooking in the open-hearth kitchen and visiting the museum store. Free before and after care is available from 7:30 a.m.-5:30 p.m.
April 11-12 / 9 a.m.-4 p.m. / Ages: 7-12
$50 for EBR Parish residents
$60 for out of parish residents
Registration deadline: April 14
Outdoor Adventure
No upcoming holiday camps at this time
Tennis
Capital One Tennis Center at City Park
1515 Dalrymple Dr.
225-343-3767
SUPER TUESDAY TENNIS CAMP
This one-day camp includes tennis instruction. Campers must bring their own lunch.
Feb. 21 / 8:30 a.m.-4 p.m. / Ages: 5-16
$55 for EBR Parish residents
$66 for out-of-parish residents
Registration deadline: Feb. 17 ($5 late fee)
SPRING HOLIDAY JUNIOR TENNIS CAMP
This three-day camp includes tennis instruction and a visit to the splash pad (campers should bring change of clothes). Campers must bring their own lunch.
April 11-13 / 8:30 a.m.-2:30 p.m. / Ages: 5-16
$129 for EBR Parish residents
$154.80 for out-of-parish residents
Registration deadline: April 10 ($5 late fee)
Greenwood Community Park Tennis Center
14024 Highland Road
225-209-8320
MLK YOUTH PICKLEBALL CLINIC
Jan. 16 / 8:30-11:30 a.m. / Ages: 6-17
$10 for EBR Parish residents
$12 for out-of-parish residents
Registration deadline: Jan. 12
MARDI GRAS YOUTH PICKLEBALL CLINIC
Feb. 20 / 8:30-11:30 a.m. / Ages: 6-17
$10 for EBR Parish residents
$12 for out-of-parish residents
Registration deadline: Feb. 16
SPRING HOLIDAY PICKLEBALL YOUTH CLINIC
Monday + Wednesday + Friday / April 10-14
8:30-11:30 a.m. / Ages: 6-17
Single Day:
$10 for EBR Parish residents
$12 for out-of-parish residents
Two Days:
$18 for EBR Parish residents
$21.60 for out-of-parish residents
Three Days:
$25 for EBR Parish residents
$30 for out-of-parish residents
Registration deadline: April 7
Highland Road Community Park Tennis Center
13350 Hwy. 19
225-766-0247
MARDI GRAS JUNIOR TENNIS CAMP
Full-day campers must bring their own lunch.
Feb. 20-24 / Ages: 4-17
Full day / 9 a.m.-2 p.m.
Single Day:
$45 for EBR Parish residents
$54 for out-of-parish residents
Full Week:
$195 for EBR Parish residents
$234 for out-of-parish residents
Half Day / 9-11:30 a.m.
Single Half Day:
$35 for EBR Parish residents
$42 for out-of-parish residents
Full Week Half Day:
$155 for EBR Parish residents
$186 for out-of-parish residents
Registration deadline: Feb. 17 ($10 late fee)
SPRING HOLIDAY JUNIOR TENNIS CAMP
Full-day campers must bring their own lunch.
April 10-14 / Ages: 4-17
Full day / 9 a.m.-2 p.m.
Single Day:
$45 for EBR Parish residents
$54 for out-of-parish residents
Full Week:
$195 for EBR Parish residents
$234 for out-of-parish residents
Half Day / 9-11:30 a.m.
Single Half Day:
$35 for EBR Parish residents
$42 for out-of-parish residents
Full Week Half Day:
$155 for EBR Parish residents
$186 for out-of-parish residents
Registration deadline: April 7 ($10 late fee)
Independence Community Park Tennis Center
7505 Independence Blvd
225-923-2792
MARDI GRAS JUNIOR TENNIS CAMP
Feb. 20-22 / 8:30 a.m.-4:30 p.m. / Ages: 6-16
$130 for EBR Parish residents
$156 for out-of-parish residents
Registration deadline: Feb. 17