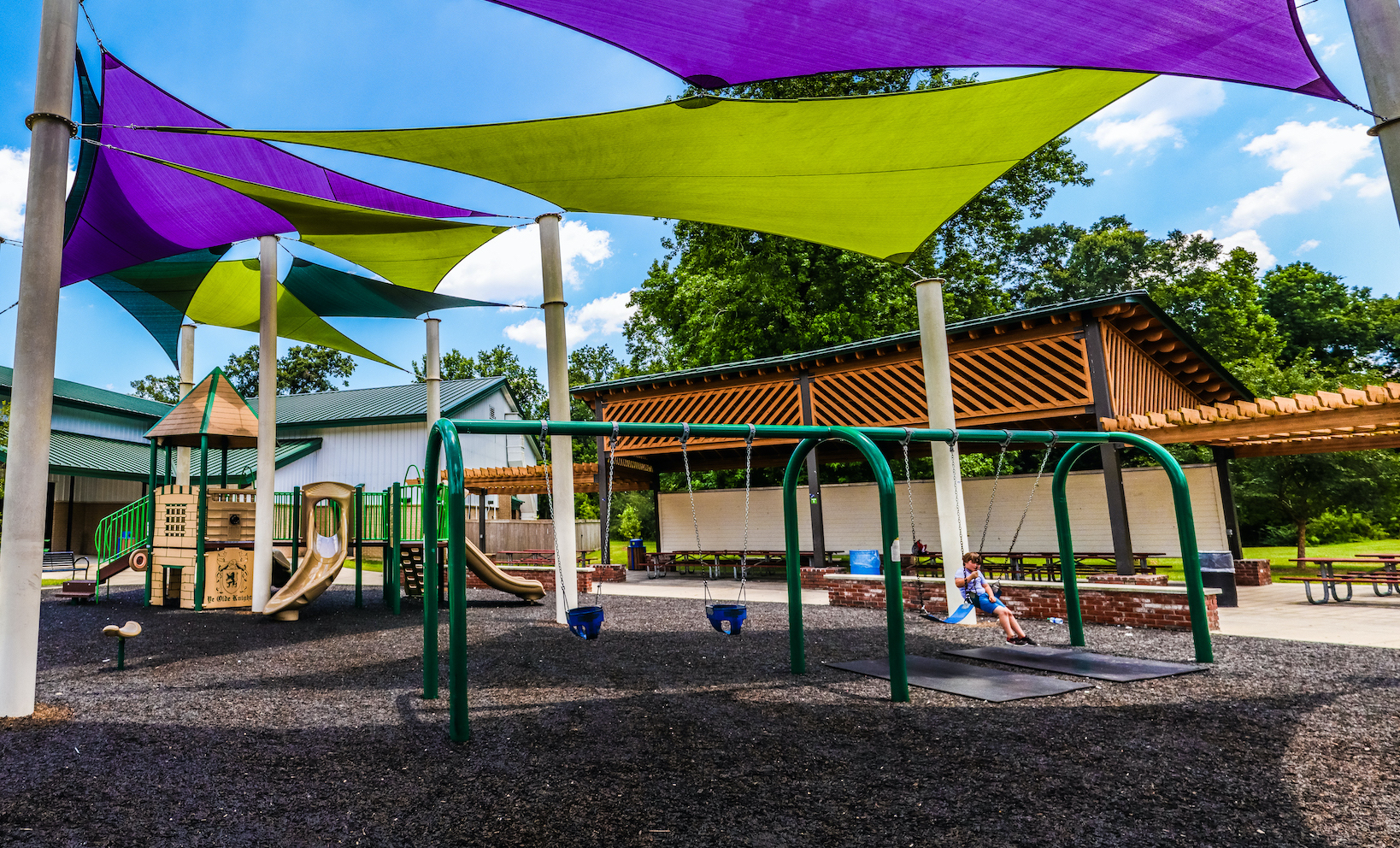 Park Rules
The parks of the Recreation and Parks Commission for the Parish of East Baton Rouge are established and maintained as areas of recreation and enjoyment for all citizens of the parish. It is the responsibility of BREC to ensure proper use of park property, safety and equitable access. The following policies have been developed to govern all activities conducted at BREC parks.
General Park Use
There is no charge for the general use of a BREC park. However, there is a fee for the use of a specific facility (i. e. recreation centers, pools, shelters and athletic fields). There are also restrictions and fees applied to the use of a park for an event (public and private) whether using a facility or not. See Special Events section.
A. Commercial, religious, civic, or political groups must request the use of parks and facilities for events and activities following the same procedures as other groups. If a group desires to use a park for commercial, religious, civic, or political reasons and has participants, then the groups may rent a park site and coordinate through the BREC Special Event Policy. All events and activities of a commercial, religious, civic, or political nature must comply with all BREC commission policies, local ordinances, and state laws.


B. All Neighborhood Parks close at dark. Community Parks close at 10:00pm. No activities may be held after 10 p.m. without prior permission from BREC Commission. For a listing of Neighborhood Parks and Community Parks go to brec.org. (City Parish Ordinance Title 12, Chapter 3, Sec. 12:270-272)


C. Pets must be leashed at all times and droppings removed. For information on our Dog Park locations, please call 272-9200 ext. 400. (City Parish Ordinance Title 14, Chapter 2, Sec. 14:204)


D. Riding of horses, except in designated areas, or the grazing of any livestock on park property is prohibited. (City Parish Ordinance Title 14, Chapter 2, Sec. 14:220) For a list of parks that allow horseback riding go to brec.org.


E. No alcoholic beverages may be brought onto or sold on BREC property. (City Parish Ordinance, Title 13: Section 13:1010)


F. Gambling or games of chance are prohibited on BREC property. (City Parish Ordinance, Title 13: Section 13:90.2)


G. Firearms, explosives and weapons of any type are prohibited in all park areas. (City Parish Ordinance, Title 13: Section 13:1011)


H. Fireworks of any type are prohibited in all parks without permit. (City Parish Ordinance, Title 13: Section 13:1005)


I. Smoking of tobacco products are not permitted in public parks. (City Parish Ordinance Title 12, chapter 9, Sec. 12:602)


J. Amplified music, sound systems and voice amplification devices are not permitted without written consent from BREC. Personal music players are allowed but at no time can music interfere with other programs on site or the immediate surroundings. (City Parish Ordinance, Title 12, Chapter 2, Sec. 12: 100-104)


K. Use of fire is prohibited except in grills. Tabletop style grills are not allowed on picnic tables, benches or bleachers. All charcoal from grills, grease from fryers and water with added chemicals or seasonings such as from seafood boils must be taken with you when you leave. Dumping of charcoal, grease or impure water onto park grounds is prohibited.


L. Please help keep your parks clean by placing all trash and litter in receptacles provided at all BREC parks. For safety purposes glass containers are prohibited within parks.


M. All parks are gated for safety and to prevent vehicles from driving onto turf/grass or in unauthorized areas. No vehicles are allowed outside designated parking spaces. Driving off park roads or through BREC service gates is prohibited.


N. Parking of commercial vehicles, buses, freight carrying vehicles and RV's on park property at any time is prohibited. (City Parish Ordinance Title 11, chapter 28, Sec. 11:438) RV's are allowed at BREC's Farr Park Campground located at 6402 River Road. Call 225-769-7805 for more information on the Farr Park Campground.


O. Motorized vehicles of any type or size are prohibited in BREC parks, including but not limited to, trails, sidewalks, grass areas, lakes and ponds and tennis courts.


P. No fuel powered vehicles of any type are allowed in BREC parks except in designated areas. For areas designated for electric remote control type vehicles including cars, trucks, planes and boats refer to our web site at brec.org or call the BREC Recreation Department at 272-9200 ext. 400.


Q. Sale of merchandise, food and beverage, solicitation of fees or donations, or conducting any type of business or event, including distribution of flyers, signs or other advertising mediums is prohibited without permit from BREC Commission. (City Parish Ordinance Title 3, Chapter 5, Sec 3:90- 93) For additional information regarding permits see Special Events.
Park patrons are advised to be cautious of purchasing any product or merchandise from a vendor in a BREC park not displaying a BREC Permit or not selling from a designated BREC concession stand.


R. Electricity or water access is only available with rental of a BREC facility.


S. Use of inflatables is prohibited without a permit and additional fees will apply. (Provider's insurance will be required.) One dry inflatable is allowed and may not exceed 30'L x 15' W x 18'H operated by a quiet run generator only. Inflatables are required to have above ground (concrete or water) anchors and may NOT be staked in the ground.


T. Water slides, water games, swimming pools, dunk tanks, petting zoos, pony/horse rides, amusement rides or any other equipment not inherent to park property is prohibited except at BREC's Baton Rouge Fairgrounds only. For additional information regarding BREC's Fairgrounds go to brec.org.


U. Golf practice is not allowed at within the parks but at designated golf facilities only. For a list of BREC golf facilities please refer to brec.org.


V. Canopies are allowed in areas that do not interfere with the opportunity of enjoyment for others in the park. Canopies are limited to one per activity space and no larger than 10' x 10'.


W. Picnic pavilions in parks are on a first come, first serve basis with some exceptions. For information on pavilions available by reservation go to brec.org or call 225-272-9200.


X. Some BREC parks include an Airnasium in the park's amenities. An Airnasium is defined as a covered concrete basketball court. Airnasiums are for activities such as basketball and recreational games. No picnic or any other social gathering is allowed within an Airnasium.


Y. Any assembly of 20 or more people not engaged in a structured recreational activity can be disbanned and members of group removed from park property by Park Rangers, BREC staff or law enforcement.


Z. Failure to observe posted signs within the park or Park Use Policy may result in immediate expulsion from park property.
Metal Detecting
The use of metal detectors can be a great hobby and way to stay fit in the parks! Metal Detecting is allowed in public areas of BREC parks with the exception of all golf courses, all athletic ball fields, Bluebonnet Swamp Nature Center, BREC's Baton Rouge Zoo, Cohn Arboretum, Frenchtown Conservation Area, Greenwood Community Park, Independence Botanical Gardens, North Sherwood Forest Community Park, Liberty Lagoon Waterpark, and Magnolia Mound. The following rules must be followed when metal detecting in the BREC parks:
Metal detecting is only allowed during daylight hours.
All federal and state antiquity laws must be obeyed.
If you find an item of possible historic or cultural significance, leave the item where you found it. Please contact park staff. Historic or culturally significant items or the property of BREC and will be used to help interpret the park and our history.
The probing and digging for items is limited to the use of an ice pick, screwdriver or small knife. The use of larger digging tools is prohibited.
All turf, dirt, etc. must be left in the original condition after digging. Take care to not damage tree roots.
All articles found in BREC parks having a value of over $100 must be turned over to BREC.
The cutting of vegetation and driving of motor vehicles outside of designated areas is prohibited.
Metal Detecting in playgrounds is only allowed when children are not present.
Please help keep the parks clean and remove debris.
Utilities are located in the park. Do not probe deeper than six inches.
Metal detecting is an at risk hobby or sport and BREC is not responsible for any injuries resulting from this activity.
Please help keep the hobby of metal detecting an allowable use in the parks by respecting the rules and caring for the parks. These rules are subject to change.
If you encounter any suspicious activity or abusive behavior in a BREC park please locate the Park Attendant if at a Community Park or call 225-252-2620
If you have an emergency requiring the police, emergency calls should be made first to East Baton Rouge Parish Emergency, dial 911. If you would like to speak with the police department and its not an emergency, then please dial 225-389-3831.
See below for additional rules and policies