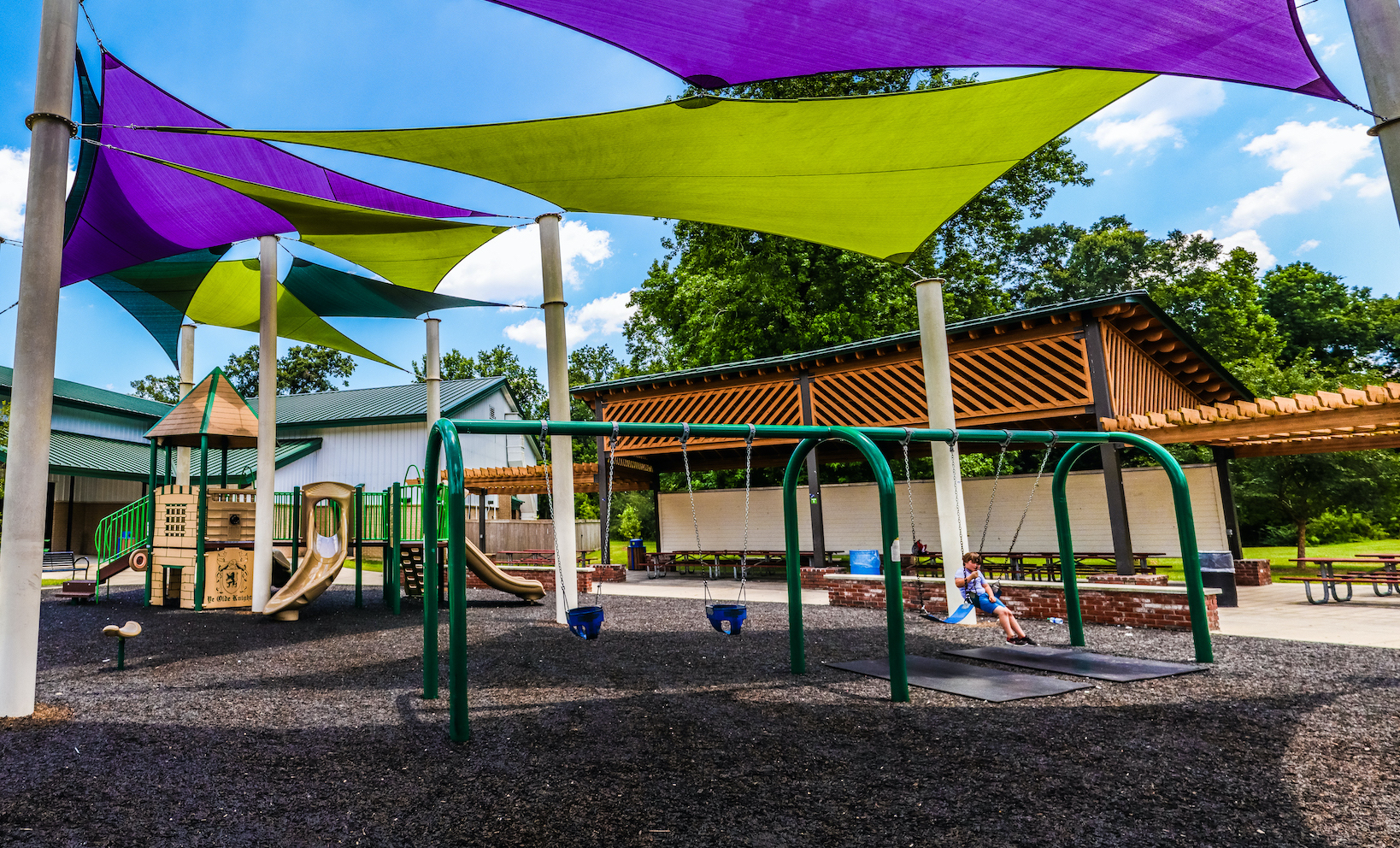 Howell Community Park - Improvements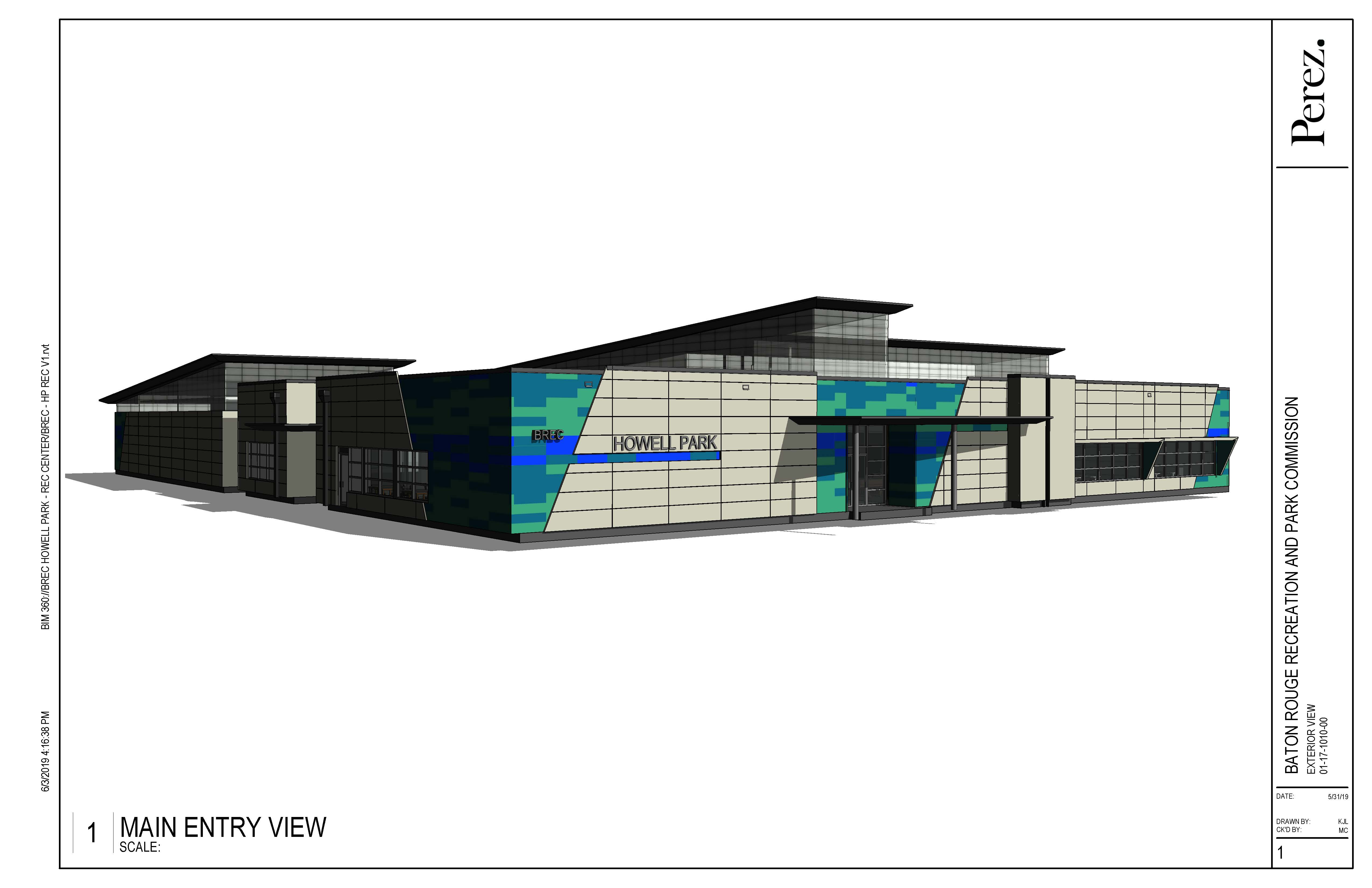 (Click to enlarge)
New Features in Current Project Improvements:
Demolition of old recreation center
NEW Recreation Center
NEW Pool & Bath House
NEW Parking Lot
Project Updates
September 2020 - Building demoliton to be completed soon; construction to begin shortly
October 2020 - Demolition complete
November 2020 - Pre-construction planning
January 2021 - 5% Complete, construction underway; major demolition is in progress with earthwork and utility installation to follow.
February 2021 - 8% Complete, demo is largely complete and some site utility installation continuing
March 2021 - 15% Complete, Demo is complete, site earthwork and creating retention pond
April 2021 - 18% Complete, site utility infrasureture to be completed
June 2021 - 25% Complete, earthwork and infrasureture construction continues.
August 2021 - 28% Complete, Forming the building foundation and preparing for concrete pour.
November 2021 - 33% Complete, Continuing the forming the building foundation and preparing for concrete pour.
February 2022 - 40% Complete, Building slab is poured and strucatural steel is up for rec center and pool house, plumbing installation underway and installation of metal wall studs.
May 2022 - 47% Complete, Building's structional steel and metal studs Structural steel and metal studs are mostly complete and plumbing and electrial mostly complete.
June 2022 - 50% Complete, Roof and HVAC installation underway.
August 2022 - 55% Complete, HVAC rough-in complete, electrical and plumbing rough-in complete
NOVEMBER 2022 - 61% Complete, Building panels installation continues. Parking lot lighting foundations underway.
February 2023 - 65% Complete, Working on interior insulation and finishes.
March 2023 - 68% Complete, Progressing on sheetwork installation and interior finish work. Pool excastion has begun. Exterior building panels nearing completion and site work is progressing.
April 2023 - 70% Complete, Interior finish work continues,pool shell has been constructed, and site work continues.
May 2023 - 72% Complete, Site work, interior drywall and painting continues.
June 2023 - 73% Complete, project continues.
July 2023 - 75% Complete, pond excavation and site work being completed, painting and interior finishing up, including tile work, exterior ADA hand rails being installed, and work on swimming pool is continuing.
August 2023 - 78% Complete, site work continues, excavation of large pond completed. Plumbing fixtures and cabinetry installation underway.
September 2023 - 80% Complete, interior finish work is underway and site work on the parking lots and sidewalks continues.
Estimated Completion for Current Improvements: Winter 2023
---
Previous Improvements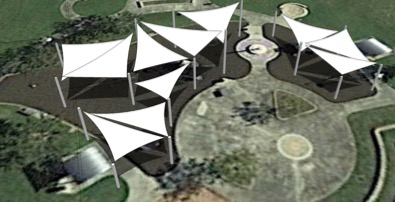 Features
NEW playground shade sails
COMPLETED JANUARY 2021 (Click to view project timeline)
Project Updates:
SEPTEMBER 2019 - out to bid
NOVEMBER 2019 - Contracting
JANUARY 2020 - Consturction underway, 5% Completed
FEBRUARY 2020 - 10% Completed, under construction
APRIL 2020 - 15% Complete, Shade Sails and Columns in Fabrication
JUNE 2020 - cutting away the rubber play surface at each of the column locations. Steel columns have arrived. Auguring the shafts to begin soon
SEPTEMBER 2020 - 95% Complete, sails installed, couple of remaining punch list items to be completed
OCTOBER 2020 - 99% Complete, Continuing construction of shade sails
JANUARY 2021 - 100% Complete, Project completed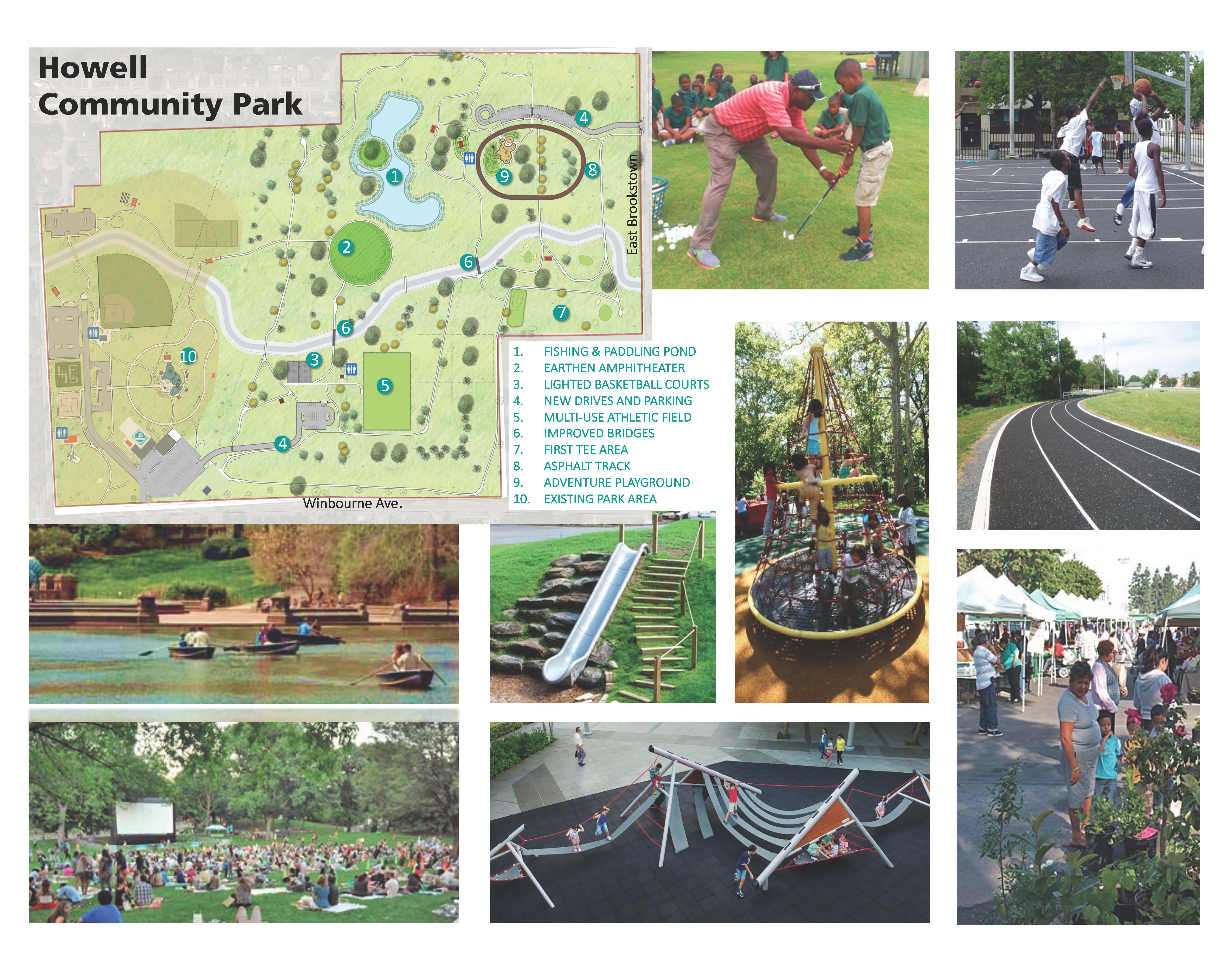 Features
NEW fishing and paddling pond
NEW earthen amphitheater
NEW lighted basketball courts
NEW driveways and parking
NEW walking and jogging track
NEW adventure playground
NEW multi-use athletic field
IMPROVED bridges
COMPLETED APRIL 2018(Click to view project timeline)
Project Updates:
JUNE 2015 - First public meeting held at Howell Park
SEPTEMBER 22, 2015 - Second public meeting held
OCTOBER 3-4, 2015 - Scientific surveys conducted of 306 households in 2 mile radius of Howell Park
NOVEMBER 2015 - Commission approved closing and repurposing Howell Golf Course
DECEMBER 11, 2015 - Final Conceptual Master Plan created
JANUARY 2016 - Selecting consultant to work on design/construction drawings
FEBRUARY 2016 - Consultant selected to work on design/construction drawings
APRIL 2016 - Consultant working through Schematic Design – Working on Budget
SEPTEMBER 2016 - Howell Golf Course Closed
SEPTEMBER 23, 2016 - Groundbreaking held for Phase 1 of Master Plan
NOVEMBER 2016 - Construction is underway and the lake is roughly 70% excavated
MARCH 2017 - Concrete installation has begun with roads and parking to follow soon
OCTOBER 2017 - Construction estimated at 85% completion. Spring 2018 grand opening likely
JANUARY 2018 - Athletic Field lighting & golf pro-shop demolition underway
FEBRUARY 2018 - Grand Opening scheduled for April 2018; Final preparations underway
APRIL 2018 - Grand Opening held
---
Other Park Updates:
November 2018 - Former golf pro shop & recreation center demolished
January 2019 - Baton Roots raised gardens put in place, tractor farming and storage areas upcoming
The urban farm is a joint project with Baton Roots.