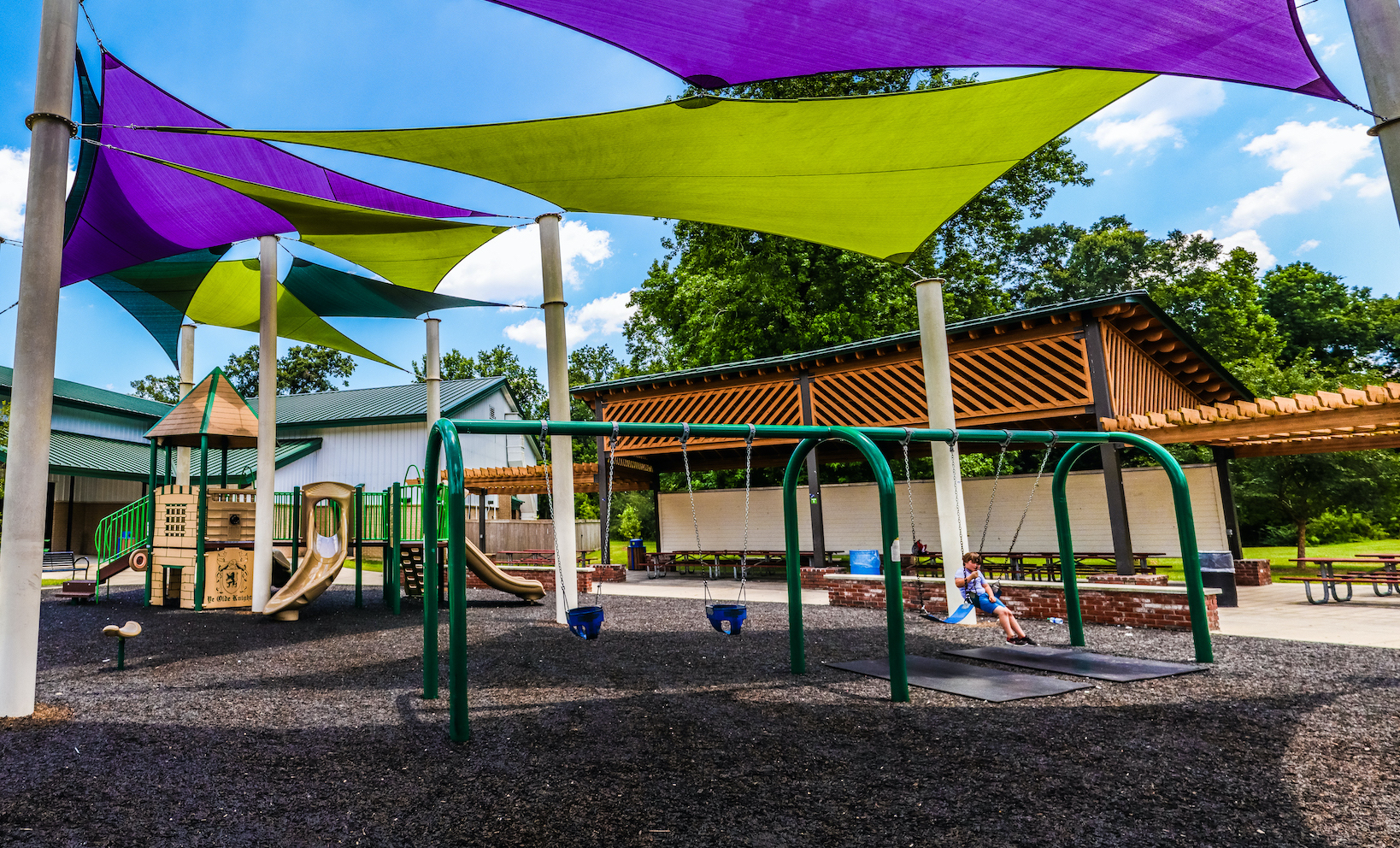 Benefits
Working for BREC has its Benefits
This site provides employee and retiree group benefits information and includes links to the Employee Benefits Self-Service Portal. It also provides fast, secure and convenient access to benefits and personal information on a 24-hour basis. The Recreation and Park Commission offers a complete benefit package to its full-time employees.
BREC FULL-TIME EMPLOYEE BENEFITS
Core Full-time employees are eligible for the following benefits:
BREC PART-TIME EMPLOYEE BENEFITS
Core Part-time employees are eligible for the following benefits:
ANNUAL LEAVE
BREC employees earn annual leave at the rate of 100 hours per year the first five years they are employed; accrual of hours will increase based on the number of years of service, thereafter, up to 192 hours for 15 or more years. Employee is eligible to utilize leave after 90 days of continuous employment.
CITY PARISH EMPLOYEES' FEDERAL CREDIT UNION
Membership in City Parish Employees' Federal Credit Union offers a full range of savings programs, loans, checking, direct deposit, payroll deduction, savings bonds, and other financial services. Go to brgov.com/dept/creditunion
CIVIL LEAVE*
Employees may be granted time off without loss of pay or vacation time when performing jury duty.
COBRA NOTICE
A terminating employee, actively insured under BREC's Health Insurance Plan, will be provided with information on their COBRA rights, if qualified, to continue coverage under that plan. This information and related documents will be provided during the mandatory exit process.
EMPLOYEE DISCOUNT POLICY*
Click the link below for the complete Employee Discount Policy
Employee Discount & Facility Privileges
EMPLOYEE SELF SERVICE
The BREC H.R. Portal allows you to perform such functions as: View pay statements and W-2 information; view accrual balances, view deductions, view contacts and dependents information; update your contact information and view your rate of pay. Links to forms and the current employee benefits plan description are also attached for viewing and printing purposes. You may access the system by going to: https://munis.brec.org/ess/
EMPLOYEE ASSISTANCE PROGRAM
The Recreation and Park Commission's Employee Assistance Program provides confidential and professional assessment and referral assistance for employees and eligible dependents in the household who are experiencing personal problems that may be affecting work performance, job satisfaction, or overall quality of life. You may contact Hidalgo Health Associates directly at (225) 927-0160 or 1 (800) 448-4470.
FEDERAL FAMILY AND MEDICAL LEAVE ACT (FMLA)*
The Family Medical Leave Act (FMLA) entitles you to up to 12 weeks of job-protected leave for specified family and medical reasons. The reasons specified in the act are:
incapacity due to pregnancy, prenatal medical care or child birth;
to care for the employee's child after birth, or placement for adoption or foster care;
to care for the employee's spouse, son, daughter, or parent who has a serious health condition
for a serious health condition that makes the employee unable to perform the employee's job
any qualifying exigency arising out of the fact that the employee's spouse, son, daughter, or parent is a covered military member on "covered active duty;" or
Twenty-six workweeks of leave during a single 12-month period to care for a covered servicemember with a serious injury or illness if the eligible employee is the service member's spouse, son, daughter, parent, or next of kin (military caregiver leave).
To be eligible for FMLA benefits you must have worked for BREC for at least 12 months and have been physically at work for at least 1,250 hours during the 12-month period preceding the date leave begins. You are required to use your accrued paid leave (vacation or sick time in the case of your own illness) in order to be compensated while on FMLA leave.

Request for and detailed information regarding FMLA, may be directed to the Benefits Administrator.
HEALTH BENEFITS
BREC's comprehensive medical benefits plan include the following options: HMO, PPO, Blue Saver and HMO Community Blue. Coverage options are provided through Blue Cross Blue Shield of Louisiana. Coverage is effective the first of the month, following two months of employment. BREC pays 85% of the employee and 60% of the dependents premium if opting for HMO coverage. This amount is applied to the PPO premiums should employees wish to upgrade to this coverage.
HIPAA
HIPAA requires that qualified beneficiaries be notified of certain HIPAA changes to COBRA that may affect their COBRA rights. Furthermore, in accordance with HIPAA, the employee's health information is maintained in a private manner and cannot be shared without expressed written permission of the employee.
HOLIDAYS
General Fund Holiday Schedule
New Year's Day
Martin Luther King, Jr.
Mardi Gras
Good Friday
Memorial Day
Fourth of July
Labor Day
Thanksgiving
Day after Thanksgiving
Christmas Eve
Christmas Day
Floating Holiday
CIP Holiday Schedule
Due to the number of hours and days worked this schedule will differ. Please consult with Human Resources.
LEAVE BENEFITS
12 Paid Holidays
Compensatory Time
Paid Annual Leave
Paid Sick Leave
Paid Time Off (PTO)*
Funeral Leave
Military Leave
Civil Leave
LIFE INSURANCE
All full-time employees are insured under a Group Term-Life Insurance policy at an amount equivalent to one (1) times their annual salary. Coverage is subject to decrease at age 70 and 75. There is no cost to the employee with the exception of salaries' in excess of $50,000 which is subject to the imputed income clause under IRS regulations. Coverage is effective immediately. Options to purchase additional life insurance at the employee's expense are also available.
LONG-TERM DISABILITY
If you become permanently and totally disabled, the optional long-term disability plan will provide a source of income up to age 65, until death before age 65 or until the disability ends before age 65. Depending upon the option you choose, there is an elimination period of 90 or 180 days after the date of disability during which time benefits are not payable. For more information please click here.
OBRA*
Part-time employees are required to participate in BREC's Deferred Compensation Plan. As an OBRA employee, you must contribute at least 4% of your gross compensation per pay period to the Plan. In return, BREC will match your contributions. Your contributions are made on a tax deferred basis. This means that your contributions are not subject to federal or state income tax at the time they are made. You will be taxed on the value of your contributions when you receive a distribution of your benefits from the plan upon separation of employment or when required to make a minimal distribution after reaching age 70 ½.
PAID TIME OFF (PTO)*
Part-time employees who work a minimum of 29 hours per week and at least 1,000 hours will be eligible to accrue Paid Time Off (PTO) hours. The purpose of the "Paid Time Off" benefit is to allow part time employees greater flexibility to take time off for vacation, sick and/or personal time. The maximum accrual is 40 hours per fiscal year. Once employees reach the cap, the employee will not accumulate any more PTO until some of the time in the account is utilized. After the balance goes below the maximum, the employee will begin accruing PTO again. Except for illness, employees are required to obtain supervisor approval in advance for the time off.
RETIREMENT BENEFITS
The Recreation and Park Commission's pension benefits are available under two distinct plans, Defined Benefits and Defined Contribution. These plans are administered by the City of Baton Rouge Employees' Retirement System (CPERS) and Nationwide Retirement Solutions (NRS). The Department of Human Resources' Benefits Division is the liaison between employees/retirees, and the third party pension administrators responsible for managing these plans.
BREC contributions to the City of Baton Rouge Employees' Retirement System for each employee amount to 38.36% (effective 1/1/21) of salary. Employees contribute at the rate of 9.5%. Retirement contributions are tax deferred. Personal contributions are kept on account and refunded if employees leave BREC before their retirement. Additional benefit opportunities are available after 25 years through the DROP program. If you are seriously considering entering the DROP Program or retiring within one year, please contact the City of Baton Rouge Employees' Retirement System at (225) 389-3272.
Though pension calculations and related transactions are performed offsite, employees and retirees may speak directly to our onsite Benefits Administrator. The Benefits Administrator is versed in the complexities associated with each plan and can provide clarity in matters of concern.
In addition, employees can participate in the 457 Defined Contribution Retirement plan provided by Nationwide Retirement Solutions where they can invest for retirement using pre tax dollars. Employees can elect to participate in this defined contribution savings plan. Contributions to this plan can reduce your taxable income. The plan is similar to a 401(K), but designed for city employees and public employees. You may enroll in this plan as soon as you begin employment.
If you have questions about your Nationwide Retirement Solutions Account (457 Deferred Compensation), call 1- (877) 677-3678 or visit them on the web at NRSforu.com
SUPPLEMENTAL BENEFITS
Supplemental insurance products help employees fill the gaps when it comes to meeting their health insurance needs. Supplemental health insurance is a type of insurance policy designed to cover the gaps that your regular health insurance may have due to deductibles and co-payments. It covers additional expenses that your primary insurance doesn't cover, such as lost income and living expenses. BREC's voluntary supplemental benefits include: accident coverage, critical Illness, short-term disability and whole Life. For more information please click here.
PET INSURANCE
Pet insurance (also known as pet health insurance) helps cover the cost of veterinary care if your pet becomes ill or injured. Some pet insurance plans also provide reimbursement for wellness procedures such as vaccinations, heartworm testing and spaying/neutering. Pet insurance is similar to human health insurance in that it has:
Deductibles
Co-pays
Maximum payouts
Premiums
Waiting periods
No coverage for pre-existing conditions
For more information visit: https://www.petinsurance.com/ or contact the Benefits Division of Human Resources for more information.
SICK LEAVE
BREC employees accumulate sick leave at the rate of 120 hours per year the first five years they are employed; accrual of hours will increase based on the number of years of service, thereafter, up to 192 hours for 15 or more years. Employee is eligible to utilize leave after 30 days of continuous employment.
Disclaimer
This is only a summary of the Recreation and Park Commission's Employee Benefits. Any benefit or policy may be changed at any time at the discretion of the Commission. This summary does not constitute an express or implied contract. For more information about any of the benefits described above contact the Benefits Division at (225) 273-6430 and remember "It All Starts at BREC".
Take a quick survey about the information provided on this webpage concerning Employee Benefits
PART-TIME ONLY SUPPLEMENTAL BENEFITS
Accident Insurance and Wellness
Perfect for an active lifestyle. This plan can help minimize the financial impact if you, your spouse, or your child has an accident.
Critical Illness Insurance
Great fit for anyone concerned about high medical costs that result from being sick with a serious illness. This plan provides a cash payout at time of diagnosis, so you are prepared for the road ahead.
Cancer Insurance
Consider this plan if you have a family history of cancer or want additional protection from the risk of a cancer diagnosis. This plan pays as you receive treatments for a diagnosed cancer.
Hospital Indemnity Insurance
A day or two in the hospital can cost thousands -even with health insurance. Hospital Indemnity insurance can help you pay for expenses and feel better prepared.
HELPFUL RESOURCES
AFFORDABLE CARE ACT
The Patient Protection and Affordable Care Act (PPACA) commonly called the Affordable Care Act (ACA) or Obamacare, is a United States federal statute signed into law by President Barack Obama on March 23, 2010. Together with the Health Care and Education Reconciliation Act amendment, it represents the most significant regulatory overhaul of the U.S. healthcare system since the passage of Medicare and Medicaid in 1965.
The ACA was enacted to increase the quality and affordability of health insurance, lower the uninsured rate by expanding public and private insurance coverage, and reduce the costs of healthcare for individuals and the government. It introduced mechanisms like mandates, subsidies, and insurance exchanges. The law requires insurance companies to cover all applicants within new minimum standards and offer the same rates regardless of pre-existing conditions or sex.
For more information visit:
HELPFUL LINKS
STATE OF LOUISIANA DEPARTMENT OF HEALTH & HOSPITALS