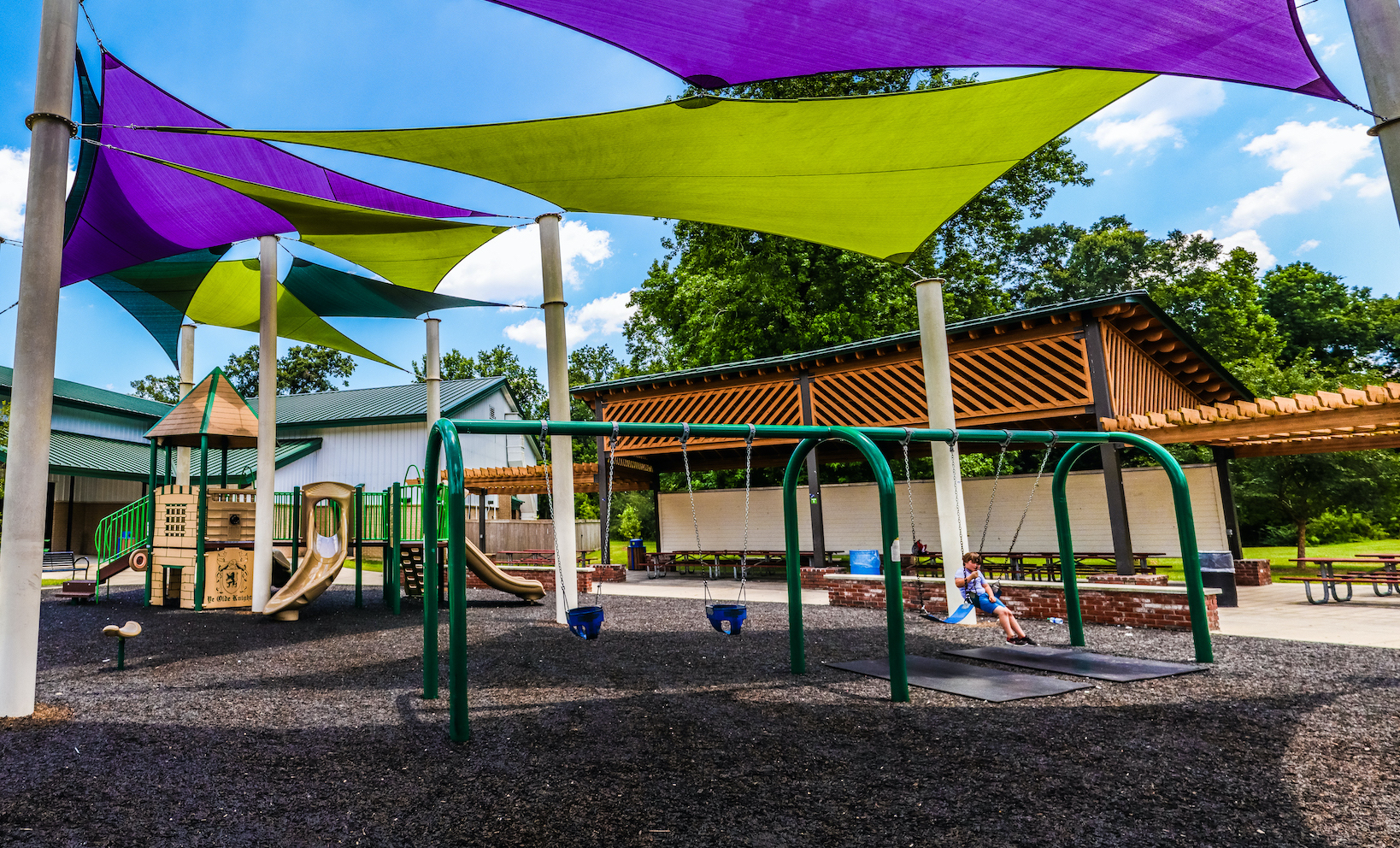 Green Infrastructure Planning
Green Infrastructure Planning
A BREC SYTEM-WIDE AND REGIONAL VISION FOR GREEN INFRASTRUCTURE
Green infrastructure design elements can be woven into our community?at the micro-scale, and at the larger regional scale. Planning for resilience requires systematic thinking, where the built and natural elements of the landscape are considered together as infrastructure – green infrastructure and gray infrastructure.?BREC is committed to collaborating with all agencies through systematic thinking - public and private, to influence policies affecting our natural environment and the increased risk of flooding our community will be facing. BREC is focused on fostering a multi-disciplinary, integrated, and systematic planning approach with a "we can do it" attitude that anticipates and pro-actively plans for the threats of increased flood risk and climate change.
In addition to BREC's 6,600 acres of park land and conservation areas, East Baton Rouge Parish as a whole, has many opportunities for infrastructure renovation and landscape repair. Concrete-lined drainage canals can be re-naturalized into broader and more attractive recreational waterways. Vacant lots, public spaces, streets, and public rights-of-way can provide increased storage capacity while creating park and recreation amenities that lead to economic opportunities as well.
Leveraging green infrastructure for stormwater best management practices will reduce the load on our aging gray infrastructure, improve our water quality, cool the air, provide more recreational opportunities, contribute to improving our quality of life in an equitable manner, and provide value added economic benefits. BREC is helping to champion this multi-scaled approach to create a shift in public policy in design and planning, not only for our parks, but the entire Parish and region.
Stormwater Management in EBR Parish
EBR Stormwater Master Plan
East Baton Rouge Parish is in the process of developing a Stormwater Master Plan which will aid in the future planning and development of infrastructure to reduce flood risk throughout the Parish. As the largest single landowner in the Parish, BREC has the unique opportunity to utilize public land to assist in stormwater management through nature-based stormwater management approaches that will increase storage capacity and help augment conventional gray infrastructure. As a stakeholder and partner, BREC has been engaged in the master plan process from the onset and looks forward to being a part of the developed plan. It is the hope that the green infrastructure in BREC parks will be used as a tool by the Parish to reduce flood potential while maintaining or expanding their recreational potential. Additionally, the master plan may result in new and stronger development ordinances that mitigate the effect of new development, redevelopment, or infill development on the existing drainage infrastructure and the requirement of the installation of green infrastructure and stormwater BMPs. For more information about what phase the master plan is in and what it will entail, visit stormwater.brla.gov
BREC Park land: Nature Reserves
Although when many think of green infrastructure they think of built amenities like bioswales and green roofs, it can also include natural land that is set aside to complete the ecosystem services it naturally does on its own. Protecting this land from development or land-use change which would reduce its capacity to manage stormwater is an important component of BREC's Resilience Strategy. Tree canopy serves an important purpose by controlling stormwater runoff through rainfall interception and intensity reduction. Trees essentially act as an umbrella for the parish, preventing a lot of water from ever hitting the ground and slowing down the water that does. Many BREC parks offer this service through the maintenance of canopy trees within the park landscape. However, our forested wetlands are usually located within high flood zones, and these are typically protected as conservation land called Nature Reserves.

Nature Reserves are areas protected from all but light human use to preserve biodiversity, geomorphic features and the ecosystem services which benefit the community including stormwater retention, carbon sequestration and more. Access to these areas is limited to research and land management purposes only and hold inherent value without development. More information about BREC's Nature Reserves and other Conservation Areas can be found in BREC's Natural Resource Management Plan. Currently BREC has nearly 300 acres set aside as designated Nature Reserves which can be found in the list below.

Cohn Nature Reserve
Burbank Nature Reserve
Quarterhorse Nature Reserve
Jones Creek Nature Reserve
South Harrell's Ferry Nature Reserve
Kinchloe Lloyd Baker Nature Reserve
Tristian Nature Reserve
Jacob Kornmeyer Nature Reserve

Rare Spruce Pine Hardwood Flatwood Habitat in Jacob Kornmeyer Nature Reserve
Resilience Strategy
In 2019 BREC passed a Resilience Strategy which highlighted the present and potential ways that BREC parks can make East Baton Rouge Parish more resilient to crisis like natural disasters. After the 2016 Flood, it is important that agencies across the Parish unite to determine how to create a more sustainable and resilient community and BREC is dedicated to doing our part. With the help of CSRS, the plan was developed to outline specific strategies and actions that BREC can use. It took an in-depth look at 8 BREC parks around the Parish which have the capacity to increase they way they are serving the public. Below are the 8 parks highlighted in the plan which were chosen based on their location in respect to watershed risk zones and their potential capacity to aid the public. Click here to download full plan

Airline Highway Park: Medium Watershed Risk Zone
Blackwater Conservation Area: Medium Watershed Risk Zone
Central Sports Park: Medium Watershed Risk Zone
Greenwood Community Park: Medium Watershed Risk Zone
Highland Rd. Community Park: Low Watershed Risk Zone
Howell Community Park: High Watershed Risk Zone
Memorial Sports Park: Medium Watershed Risk Zone
Zachary Community Park: Low Watershed Risk Zone
Large Watershed Initiative Projects
In the last 5 years since the 2016 flood, BREC has been dedicated to expanding the ecosystem services its park provides to the Parish. There are currently several projects underway that will highlight this dedication which includes increasing stormwater capacity in BREC parks while also increasing their recreational potential and impact on the community.
Louisiana Watershed Initiative Grant

In 2021 BREC received $4.7 million in Louisiana Watershed Initiative funding through the State Office of Community Development and the U.S. Department of Housing and Urban Development which will be applied to increase the stormwater capacity of Greenwood Community Park and the surrounding watershed. The project will expand water bodies, adjust waterway slopes, add native plants, and incorporate various green infrastructure approaches into the park design. For more information about the Greenwood Community Park Project which includes renovations to the existing Baton Rouge Zoo, visit the Greenwood/Zoo Project Page

Airline Highway Community Park

BREC continuously surveys the community to identify gaps in service and community needs and recent surveys showed a need for another Community Park on the southern end of the Parish. To fill this gap, BREC identified Airline Highway Park, also known as the Baton Rouge Fairgrounds, as a suitable location for the park. A robust master plan for the park was completed in 2021 after. Phase 1 of the master plan is currently in design development and will progress to construction documents later this year for actual construction to begin in late 2022/early 2023. The park is located at the confluence of Ward Creek and Bayou Manchac and held considerable flood waters during the 2016 flood. The new Community Park design will be focused on increasing the stormwater capacity of the park while adding new amenities like a recreation center, nature center, constructed wetlands, bioswales, a boat launch and reforested areas. The design of the park will serve as an excellent example of a multi-functional park, showcasing green infrastructure elements for nature-based storm water solutions and landscapes that are designed to be intentionally floodable. This innovative approach will create more storm water capacity but with spatial quality, aesthetic quality, and most importantly – recreational quality. Learn more at the Airline Highway Park Project page.

City Park Lake: University Lakes Project

The University Lakes are probably Baton Rouge's most visited and visible lake system in the Parish. They are the aquatic and recreational heart of the city holding a rich history and culture along its banks. The University Lakes project is meant to remedy some of the ecological issues the lakes are having while increasing the recreational capacity of the area. BREC operates and manages City Park and Erie Lakes, large waterbodies within the system that currently have shallow depths, poor water quality and limited recreational access points. Dredging and redesigning the lake will increase its stormwater capacity, clean water as it moves through the system while also increasing habitat quality with native plantings and providing recreational access like boat launches, fishing piers, etc. For more information about the project visit: https://www.universitylakesproject.org/
A Greener Future
BREC Planning and Design
BREC has a dedicated staff of planners, landscape architects, engineers, biologists and scientists working to make BREC parks greener and more sustainable. The Planning and Engineering Department at BREC has made a concerted effort to be on the cutting edge of green infrastructure implementation and sustainable design. Our adaptive philosophy looks at a park from multiple angles, not just at the recreational potential but also the many other ways a park can benefit the community.