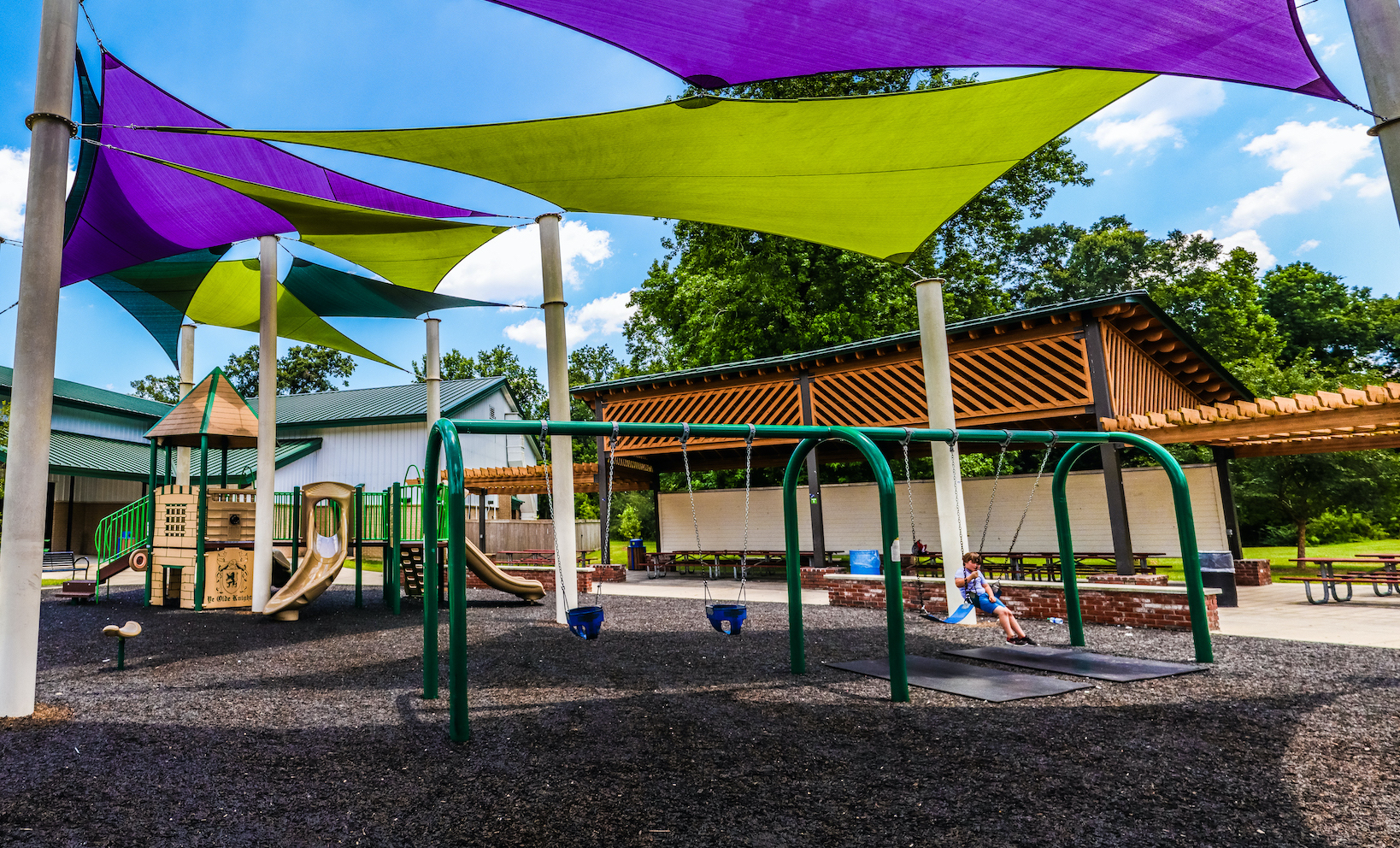 Greenway Planning
BREC Greenway & Blueway Plans
Every 10 years, BREC completes the Imagine Your Parks Strategic Plan, a community-driven plan that reveals the public's recreational priorities. Both the 2004 and 2014 Strategic Plan recognized trails and connecting park systems as a leading priority, leading to the EBR Pedestrian and Bicycle mater Plan, adopted by the BREC Commission and EBR Metropolitan Council in 2020.

The Blueways trail vision has been developed into a concept plan that focuses on Bayou Fountain, Ward Creek and Bayou Manchaq. The first parish waterway access was completed in 2017 at Highland Road Park on Bayou Fountain. Additional waterway accesses are planned at Airline Highway Park on Ward Creek and Manchac Park on Bayou Manchac.
Health Loop
Guided by the CAPP plan and recommendations from the Health District Infrastructure Committee, BREC began implementing components of Ward Creek and Dawson Creek greenways to create a "Health Loop." It was envisioned as a comprehensive greenway system that would connect several medical facilities and destinations and be accessible to residents, healthcare staff, and patients and their families for recreation and transportation. The greenways consist of a 12 ft. wide, barrier free concrete pathway designed for pedestrians and cyclists. Portions are complete on Dawson Creek at Quail Drive to BREC Perkins Road Community Park. Complete segments on Ward Creek area at Essen Lane to Our Lady of the Lake Children's Hospital and Bluebonnet Boulevard to Siegen Marketplace. Plans to connect the Ward Creek Greenway and Dawson Creek Greenway to complete the "Health Loop" are underway.
Project Updates
CMAQ Greenway - Scotlandville Parkway to Downtown
April 2022- BREC was awarded a Congestion, Mitigation, and Air Quality (CMAQ) grant for $3.7 million to construct a bicycle and pedestrian trail connecting the Scotlandville Parkway at Monte Sano Avenue to Memorial Park. BREC is also funding an extension of the trail to Spanish Town Road Park. The project is in the planning and design phase and is expected to begin construction at the end of 2022.
February 2023 - Final plans have been reviewed by DOTD and BREC; awaiting comments from City-Parish.
May 2023 - BREC has received comments from City-Parish on final plans for project and consultant is revising plans.
April 2022 - The first phase of the Greenwood Greenway is complete. BREC received a Transportation Alternatives Program grant to construct the second phase, extending the trail along Lavey Lane and Hwy 19. Construction is expected to begin in the summer of 2022.
February 2023 - Phase 1 is complete. Phase 2 is in construction, with the bridge crossing at Ash Slough nearly complete.
July 2023 - Phase 2 is underway. The bridge structure at Ash Slough is nearly completed and the crew has begun construction on the trail.Construction progress is at 40% completed.
April 2022 - The updated Master Plan is in the final stages of receiving public input. The final plan is expected to be complete in Summer 2022. BREC did received an approximately $1 Million Grant from DOTD Transportation Program.
February 2023 - Master Plan complete. Obtaining environmental clearance from DOTD for Phase 1.
May 2023 - Master Plan complete. Obtaining environmental clearance from DOTD for Phase 1. Schematic design is nearly completed, and construction documents will begin soon. Several bridges that were damaged are currently in design.
April 2022 - Portions of the Ward Creek Greenway are complete, from Essen Lane to the Children's Hospital and from Bluebonnet to Siegen Lane Market Place. Construction on the Bluebonnet Extension segment has been stalled due to unforeseen issues requiring further design, but is expected to resume soon. BREC is in the planning stage for the Ward Creek Greenway west of Essen to LSU Burden Center and Our Lady of the Lake.
February 2023 - "Bluebonnet Extension" segment: USACE has approved the permit and construction is set to resume in Feb 2023. "Essen to OLOL" segment: Stantec is preparing construction documents and coordinating utility relocations.
April 2022 - BREC has aquired many of the neccesary seritude agreements with property owners required to construct additional portions of the trail. (Phase II & III)
February 2023 - "The Grove" segment is in design. Contract negotiations for the "Perkins to Paulat" segment are underway.
June 2023 - "The Grove" segment is in design, currently under plan review process.
April 2022 - Bayou Manchac Blueway Launch – Construction is expected to begin in the summer of 2022 for a Blueway launch at Manchac Park. The launch will provide access to Bayou Manchac and an opportunity to connect with nature and relax outdoors. It will be located approximately 7 miles, utilizing Bayou Manchaq, from an existing launch at Highland Road Park. For more information regarding the plans for BREC Blueways, view the Blueways Concept Map below..
February 2023 - The Bayou Manchac launch is nearly complete. This Blueway Launch and Trailhead allows paddlers to access Bayou Manchac via a floating dock system and wooden deck for fishing, birding and scenic views.
More about BREC Greenways and Blueways