News

BREC Wins Prestigious 2022 National Gold Medal Award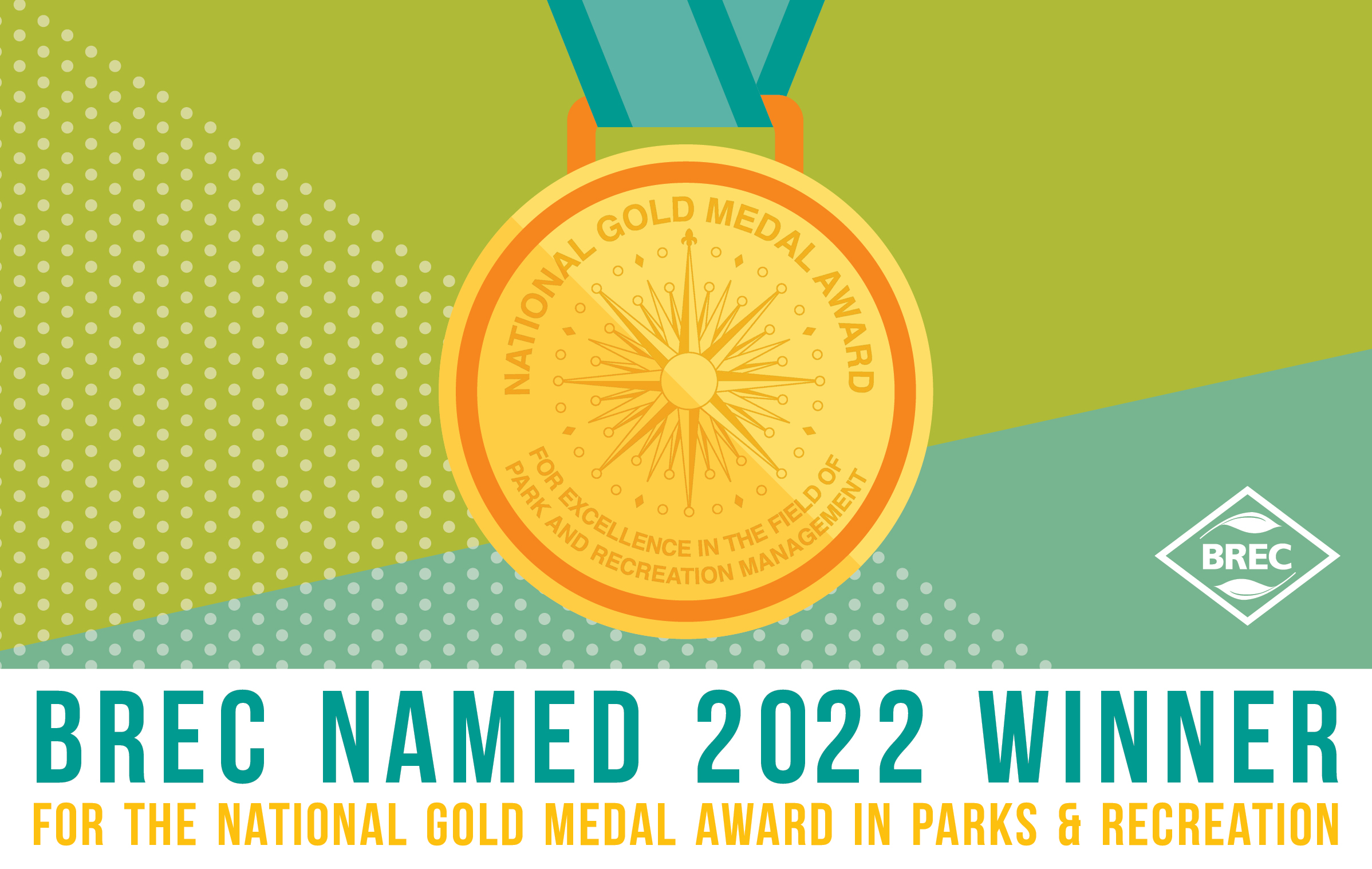 Article Details
Article Body
Baton Rouge, LouisianaThe American Academy for Park and Recreation Administration (AAPRA), in partnership with the National Recreation and Park Association (NRPA), announced this morning at its national conference in Phoenix that for the third time in its history, BREC has won the National Gold Medal Award for Excellence in Park and Recreation Management. Musco Lighting LLC has been a proud sponsor of the Gold Medal Awards program for more than 15 years.
Founded in 1965, the Gold Medal Awards program honors communities in the U.S. that demonstrate excellence in parks and recreation through long-range planning, resource management, volunteerism, environmental stewardship, program development, professional development and agency recognition. Applications are separated into seven classes, with five classes based on population, one class for armed forces recreation and one class for state park systems awarded on odd numbered years.
BREC competed in the Class 1 Recreation category, which is the largest category and includes agencies serving communities with populations over 400,000. Previous winners in this category include the Cleveland Metroparks (2021), Metroparks Toledo (2020) and Fairfax County, Virginia Park Authority (2019). BREC is a three-time national Gold Medal Award winner (1991, 1975, 2022) and 17-time national finalist.
Agencies are judged on their ability to address the needs of those they serve through the collective energies of citizens, staff and elected officials.
"It brings me great pride to once again bring home one of the most prestigious awards a park system can win to East Baton Rouge Parish. This award would not be possible without the dedication and commitment of our staff who have continually gone above and beyond to serve the community during historic flooding, numerous hurricanes and the COVID-19 pandemic over the last few years," said BREC Superintendent Corey K. Wilson. "For the last 75-years, BREC has worked closely with the community to create one of the best park systems in the country and this award would not be possible without the support we receive every time we ask for input into a construction design, new program or event, seek new partnerships and, of course, the tremendous visitation to our parks, trails and facilities. We are excited to share the Gold Medal with the community and will use this as motivation to continue our commitment to excellence," said Wilson.
A panel of five park and recreation professionals reviews and judges all application materials. Judges are chosen for their considerable experience and knowledge in parks and recreation on both the local and national levels.
For more information on the Gold Medal Awards, visit www.nrpa.org/goldmedal or www.aapra.org and for full details regarding the accreditation process, visit: https://www.nrpa.org/certification/accreditation/CAPRA/.
BREC is the agency that connects people to parks and nature in East Baton Rouge Parish. It is a political subdivision of the state of Louisiana created in 1946 to develop, maintain and operate public park and recreational facilities. Throughout its 75-year history, BREC has taken seriously its responsibility to improve the health, safety, environment and quality of life for all citizens. BREC was among the first park agencies to earn national accreditation and earned reaccreditation for an unprecedented sixth time, meeting 150 of 151 standards. BREC is a three-time National Gold Medal Award winner and 17-time national finalist. For more information, visit www.brec.org.
The American Academy for Park and Recreation Administration is a non-profit organization founded to advance knowledge related to the administration of recreation and parks; to encourage scholarly efforts by both practitioners and educators that would enhance the practice of park and recreation administration; to promote broader public understanding of the importance of parks and recreation to the public good; and, to conduct research, publish scholarly papers and sponsor seminars related to the advancement of park and recreation administration. For more information, visit www.aapra.org.
The National Recreation and Park Association is a national not-for-profit organization dedicated to ensuring that all Americans have access to parks and recreation for health, conservation and social equity. Through its network of nearly 60,000 recreation and park professionals and advocates, NRPA encourages the promotion of healthy and active lifestyles, conservation initiatives and equitable access to parks and public space. For more information, visit www.nrpa.org. For digital access to NRPA's flagship publication, Parks & Recreation, visit www.parksandrecreation.org.
Musco Lighting, LLC is a company that has specialized in lighting systems for sports and large areas for more than 30 years. Musco has pioneered dramatic improvements in energy efficiency and affordable ways to control wasted spill light and glare. Permanent and temporary lighting services range from neighborhood fields to NASCAR super speedways. For more information, visit www.musco.com.