News

Managing the Heat this Summer? Here's How it's Done for Baton Rouge Zoo Residents!

Play and Grow Pros: BREC Blog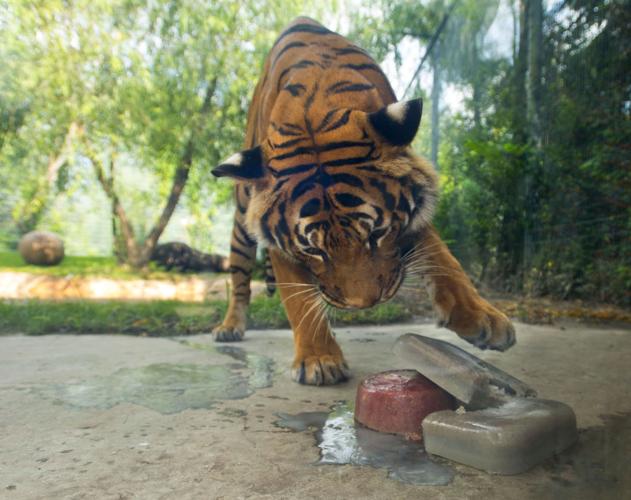 Article Details
Article Body
Baton Rouge, LouisianaAs the summer heats up, we often get asked by visitors what the zoo staff does to keep our animal residents cool. We take the summer heat very seriously – especially when it comes to the care and comfort of our animal kingdom friends.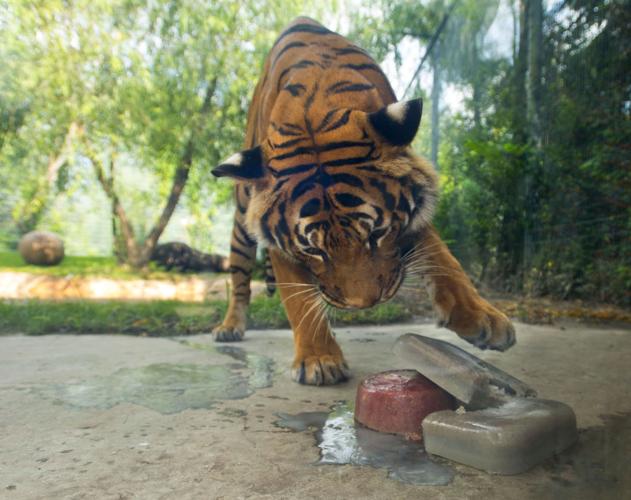 Fortunately, the animals are nowhere near as sensitive as people are. A lot of the animals have adapted to living in a very hot and humid environment and we select the animals for our collection based on our climate. Typically, at our Zoo, you will see African, South Asian, North American and Australian species that are all evolved to handle the heat – It is the cold temperatures that we have to really have to prepare for. You might be asking yourself, "What are the typical temperatures for their areas of origin?" Well, at this time of year, Asia would typically see (Fahrenheit) temperatures in the 80s or 90s with a higher humidity index, while African temperatures would be in the upper 90s into the 100s with a lower humidity index. And, we don't keep animals like camels that are more sensitive to humidity. The North American species in our Zoo are native to the area, so they don't require as much preparation – they are used to it like us Louisiana natives.
So, what do we do to keep our animals cool?
The short answer is…a lot!
Although some of our animals really like the warmer weather, we have many protocols in place to make sure the animals in our care are at healthy and comfortable temperatures. Just like people, they may not realize they are too hot, so we've got their backs!
Our keepers begin their days checking on and feeding the animals in the morning and then, around midday, which corresponds to the hottest part of the day, they do their enrichments or cooling activities. We try to alternate the different types of treats or cooling mechanisms to give the animals variety so that they have options to stay cool that aren't the same every day. Keeping cool can be necessary AND fun. We also give them "free run" times which allow them to go into their dwelling to cool off as they want to, typically during the hottest part of the day.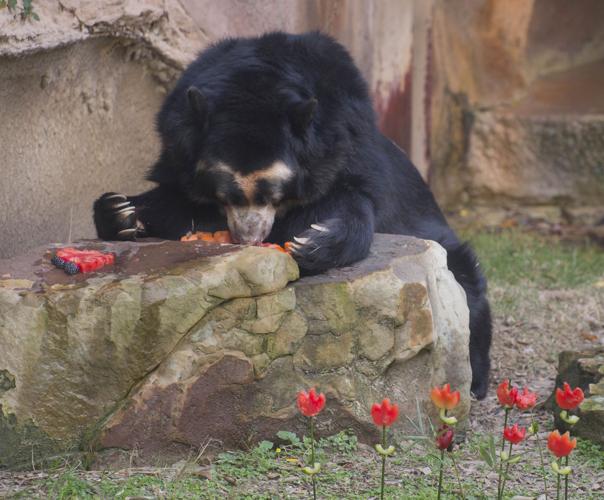 When it comes to the methods used to cool off our critters, it often depends on the species. We like to give our hoofstock and carnivores frozen treats of all varieties. We have "bloodsickles" (yes, that's exactly what it sounds like) for the big cats, frozen fruit popsicles for the primates and frozen grapes and ice blocks for some of our North American natives.
We also employ fans of all types for our residents including mister fans keeping them cool with a light spray of water as well as box fans and large ground fans to get air flowing. We also provide pools to the animals that do not have existing pools in their exhibits, and create wallers (mud holes) for some of the animals, such as hippos and rhinos, so that they can roll around in the mud to cool off. And just like your own little ones, you might catch the deer enjoy running and playing in the sprinklers.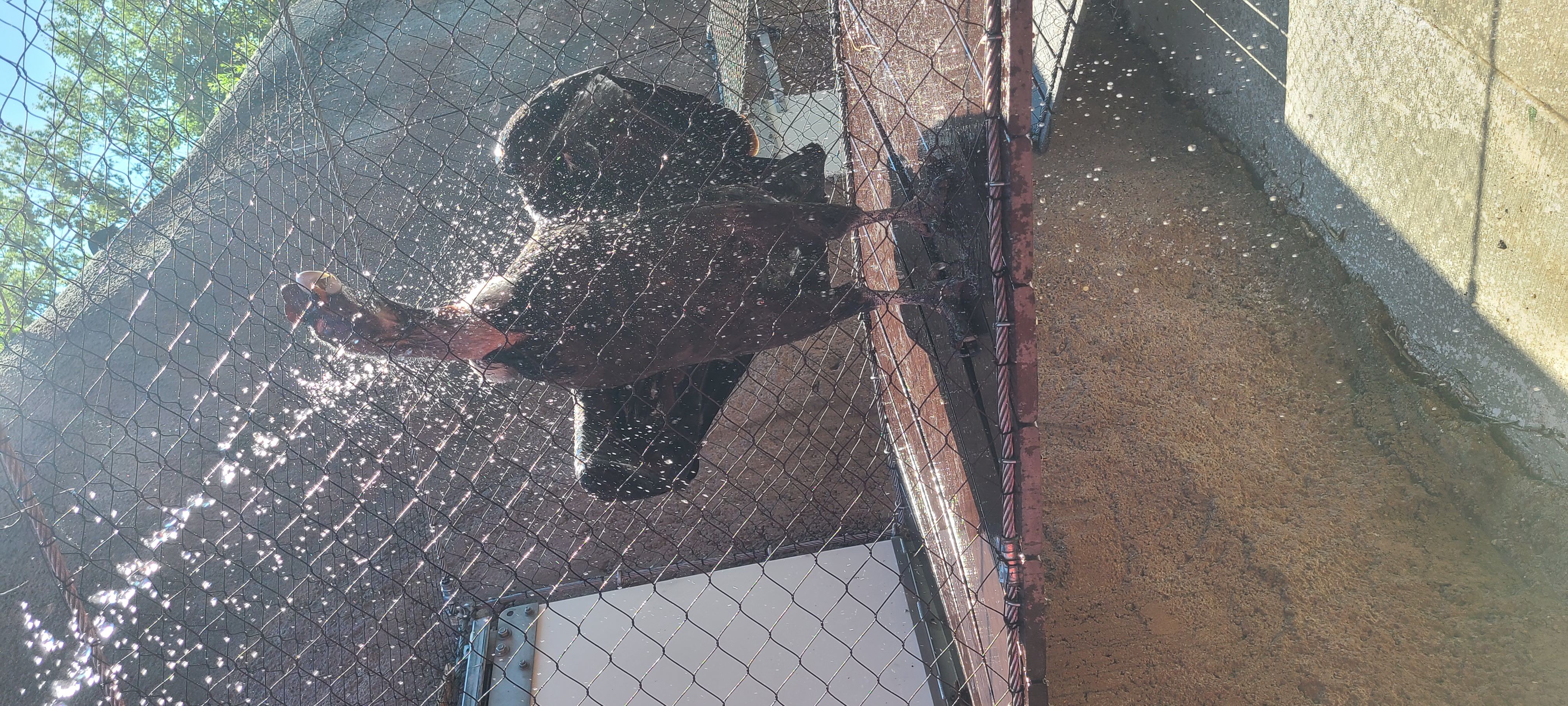 While our animal friends appreciate all of the ways we help them keep cool, we have found that a few have their favorites. Birds enjoy fans of any kind, while our larger animals prefer the mister fans. The ostrich, larger cats and the bear like to get in the pools, while the Hippos and Children's Zoo animals prefer the ice treats because in addition to being cool, they are fun and edible.
But wait…what about keeping your "wild" ones cool when visiting the Zoo? When you come to the zoo, you definitely have an opportunity to cool off as you enjoy exploring nature and the wild animals in our collection. There are mister fans throughout the zoo to give you that extra burst of cool energy. We have also made sure there is a lot of shade in the zoo. Because the zoo is a mature park, there is plenty of natural shade that not only adds to the natural environment, but also provides areas to take a break from the heat. And if you're in the mood for a refreshing snack, drop by the Cool Critters Café for a cool, sweet treat.
With your hectic schedules, your own house might seem like a zoo some days, but you might not have the means to keep your own animal friends cool like we do at the zoo. So, how do you keep your own furry friends cool this summer at home? Well, if you have a pet that cannot stay inside or prefers to be outside, you can scale down some things we do at the Zoo. Small kiddie/babypools are a great way to beat the heat. If you do not have a shaded area, then think about setting up a box fan on hot days. Your pets will also love something frozen. Obviously, you may not be able to provide them with blood popsicles, as we do for our large cats, but you can still make your own frozen treats – just be sure to make them with things safe for them to consume. Frozen ice treats for pets with beef or chicken bouillon are ideal. You can even mix dog/cat food or meatballs into the bouillon for an extra special addition. These sorts of treats will also provide them with the salts and electrolytes they need to keep them comfortable while they are outdoors.
So, as temperatures continue to rise, remember to keep your little ones and furry friends cool at home and don't forget to drop by the Zoo to check out all of the amazing animals that call our Zoo home. For more information on admission, programs or events at BREC's Baton Rouge Zoo, visit brzoo.org.