News

BREC Seeks Public Input for Scotlandville Parkway Master Plan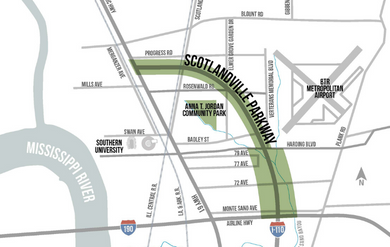 Article Details
Article Body
Baton Rouge, LouisianaBREC announces the master planning process of the Scotlandville Parkway, a tremendous recreational asset located in North Baton Rouge.?Community partners including Healthy BR, Community Against Drugs and Violence (CADAV), Scotland Saturdays, Front Yard Bikes, and Bike Baton Rouge are working collaboratively with BREC to gather public input with support from a Trust for Public Land grant.
The Scotlandville Parkway spans approximately 3 miles from Airline to Scenic Highway and features a large park at the southern end and several smaller "pocket parks" along the length of the parkway. The Scotlandville Parkway master planning process will include assessing and evaluating the existing trail routes, bridges, park amenities, structures, and environmental attributes to reach the overall goal of having an area which exemplifies BREC's mission to contributing to a healthier, more vibrant community. Information gathered from the public survey will help identify which amenities to include along the parkway.
BREC has released an amenities survey which will be available for in-person assistance at the Scotland Saturdays market on September 25 from 4-8 p.m. at Anna T. Jordan Community Park located at 1750 Stilt Street, Baton Rouge, LA 70807. A community walk is also planned for the event and the first 100 people to complete a survey will receive a free ice cream provided by Red River Bank.
The public can also complete a survey anytime online until Friday, October 1, which can be found at https://www.brec.org/index.cfm/park/ScotlandvilleParkway. Physical surveys are also available at other surrounding community locations.
"The Scotlandville Parkway has been a great asset to the North Baton Rouge community for decades and its restoration has been identified in the EBR Parish Pedestrian and Bicycle Master Plan as a top priority," said BREC Superintendent Corey Wilson. "We are committed to identifying how the parkway can better serve the community and providing quality biking and walking in our parish," Wilson added.
Additional public engagement opportunities for the Scotlandville Parkway will be planned for this fall. The public can follow the progress and learn more about the park and on-going master plan process at https://www.brec.org/index.cfm/park/ScotlandvilleParkway.